Black ceiling fans are on-trend right now, and what better way to help usher in a new 2020 renovation than with a new ceiling fan? The ceiling fan selection from LightsOnline includes something for every space, from outside facing the elements to inside a home with modern farmhouse decor and more. The black finish helps the fans pop against any color scheme and the results in your home will wow you.
The Piston, from Casablanca Fans, is a three-blade indoor/outdoor four-speed fan that includes dimmable LED bulbs, a handheld remote, and both 2" and 3" downrods (longer downrods can be ordered separately if you need them). The motor is reversible, meaning the fan can be used in both warm and cold weather. Piston is damp-rated and has stainless steel hardware to resist rust. With clean lines, a matte black finish and a design inspired by the early American Industrial Age, this versatile fan can go anywhere that doesn't receive direct moisture and fits in with nearly any aesthetic.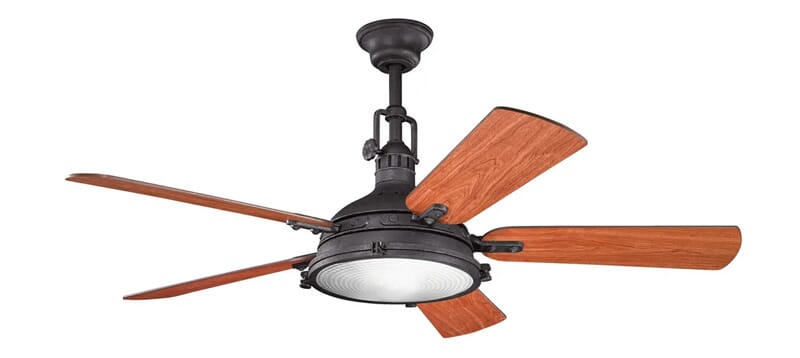 Mixing styles can create an interesting centerpiece in your space. Industrial ceiling fans, such as the Kichler Hatteras Bay ceiling fan, are the perfect accent piece to complement any space with a nautical-inspired impression. The distressed black finish, combined with walnut blades, makes it stand out in any room.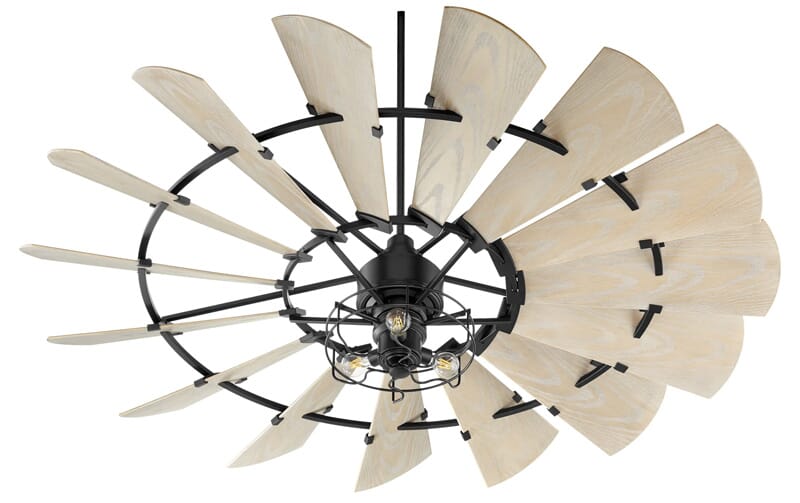 Fitting the Modern Farmhouse Aesthetic: Quorum Windmill
Does your room have a modern farmhouse aesthetic? Do you want to impress your family and friends? The Quorum Windmill ceiling fan in noir looks best inside and is rated for dry locations. Featuring a whopping 15 blades, this show-stopping piece is sure to be the center of any space.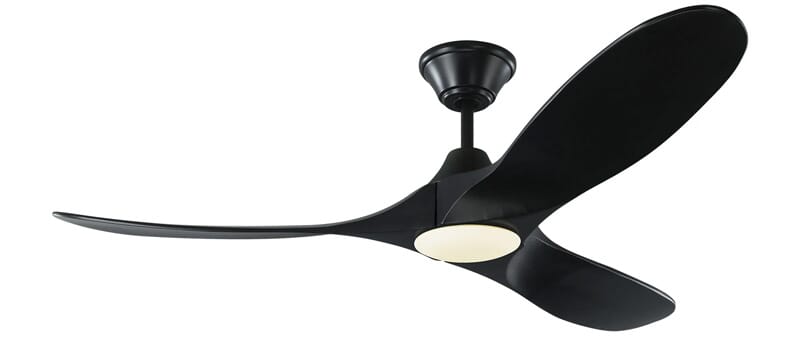 This stylish modern ceiling fan features an integrated LED light. Softly rounded blades, an elegantly simple housing, and a damp rating help this three-blade fan fit in most spaces. The hand-carved balsa wood blades are finished in black. The energy-efficient DC motor is controlled by remote, offers six speeds and is reversible.
If you need a fan to survive the elements, such as direct moisture like rain, look no further than Minka Aire fans. The Contemporary ceiling fan in coal is part of the Slipstream LED collection, is rated for wet locations and features a dimmable bulb and eight blades.
The Hunter Symphony indoor ceiling fan comes in a matte black finish. It offers three blades, four speeds, and a reversible WhisperWind motor. It's perfect for smart homes because the Symphony can connect to a Wi-Fi network and integrate with home automation applications such as Amazon Alexa, Google Assistant and Apple HomeKit, giving you better control over your fan. You can even control it with your voice!
Shop LightsOnline's entire selection of black ceiling fans, along with lights and more, at www.lightsonline.com