When light hits a brass finish just right, it always catches your attention. The dark golden hues of brass make everything more special, from drawer pulls to light fixtures. In particular, brass light fixtures are warm, welcoming and work well in many settings, from the bathroom to the kitchen and everywhere else in between. At LightsOnline, you'll find countless light fixtures and ceiling fans defined by stunning brass finishes. If you want to add more brass touches around your home, here are a few fixtures defined by this eye-catching finish.
A Ceiling Fan That Melds Modern and Classic Designs
Browse LightOnline's ceiling fans for sale and you'll find a variety of finishes. From brushed nickel to flat black, LightsOnline's ceiling fan collections are as diverse as you'll find. Then, of course, there are ceiling fans with brass finishes. Take the Visual Comfort Fan LED Atlantic 56" Indoor Ceiling Fan, for instance. It's exquisitely adorned with a hand-rubbed antique brass finish that is paired with rich, dark walnut blades. The result is a timeless touch with a modern twist. It's sleek and elegant, with plenty of sophistication to go around. That sophistication doesn't end with the visuals, either. The Atlantic is equipped with a DC motor, which gives you exceptional air circulation coupled with ultra-quiet operation.
Complete Any Bathroom Design with Brass Touches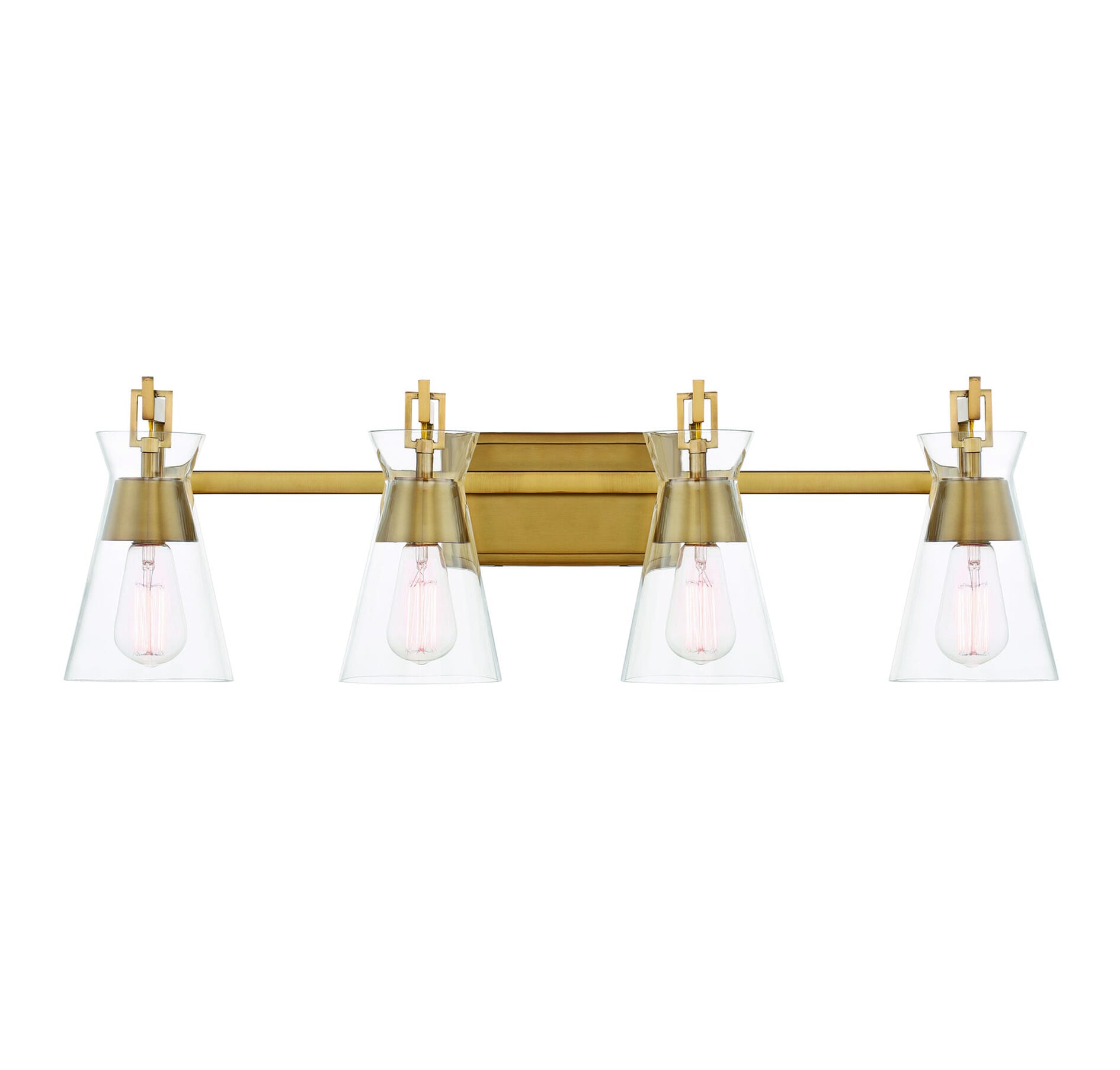 The Savoy House Lighting Lakewood Bathroom Vanity Light series embodies pure class. These fixtures come in several different widths for vanities of varying sizes. Of course, what truly defines these fixtures is the warm brass finish. It brings an understated quality to each piece while defining the overall look of the fixtures. The Lakewood Bathroom Vanity Light collection is part of the greater Lakewood collection that features chandeliers, pendant lights and wall sconces, all available in warm brass. If you need a new bathroom vanity light for any of the bathrooms in your home and you're looking for that touch of brass, Lakewood is worth your consideration.
A Brass Collection for Every Taste
The Savoy House Lighting Lakewood collection is only one example of what you'll find under the Savoy House Lighting umbrella. Whether you're a fan of midcentury modern designs or you prefer something more contemporary, collections from Savoy House and others have you covered. LightsOnline is your one-stop shop for brass finishes across every design trend out there, so you can get the warm, sophisticated look of brass with the specific design features you want. Find brass paired with clear glass, white glass, black fabric and more, all featuring different aesthetics to match your preferences.
Discover the possibilities of brass light fixtures at www.lightsonline.com