Hey! I'm Emma and I am in the marketing department here at LightsOnline. I am our social media manager, I compose our email newsletters and I write content for this blog. This means that I see, and talk about, lights a lot.
It also means I think about lights a lot, too. If I'm at a shop or restaurant, I will always check out what's illuminating the space. When I'm watching TV, I'll comment on whether the lights in a room are adequate or if the ceiling fan is up too high.
I brought this lighting-focused thinking when my husband and I bought our house in 2017. Aside from a pair of Savoy House Elise bath bars in the primary bathroom (a great choice made by the previous owners when they renovated), all of the lights in our house were products of the time in which it was built: the year 2000.
The dining room chandelier and outdoor lights were all finished in that tacky yellow brass that has since been ditched for lovely rich caramelly brass. The ceiling fan in our guest bedroom was too small, hung up too high and was too loud. The same was true for the ceiling fan in another bedroom that we use as a retro video game playing space. (I am bad at real-life bowling, but very good at Wii Sports Bowling.) Plus, a not-our-style foyer light was hanging in our entryway.
It took a little while – I made a New Year's resolution that I was going to buy new lights and beautify our home in 2020, so, uh, that didn't work out as planned (the motto of 2020) – but in 2022, I finally did it and I could not be happier. Our home looks so much brighter and so much more stylish! My husband was involved with all the decisions and, importantly, he chose the dining room chandelier when I truly could not decide. Installation was done expertly by one of my colleagues.
Come with me on a tour!
Outdoor Lights
Let's start outside. We have three lights out front: a wall light over the garage, a hanging light over the front door area and another wall light right next to the front door. They had all seen better days and were too small. (With outdoor lights, go on the bigger side because you'll see these lights from the street.)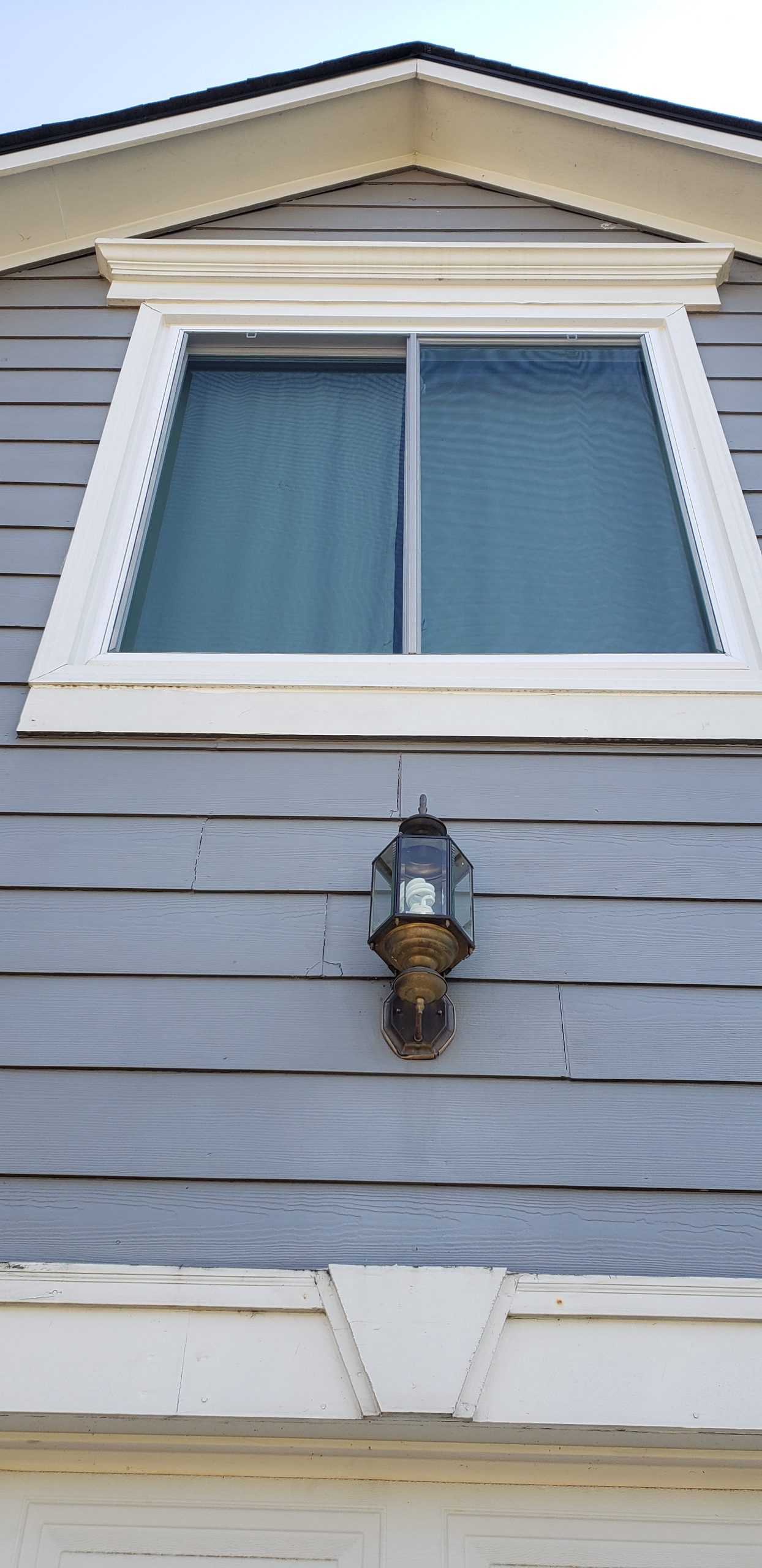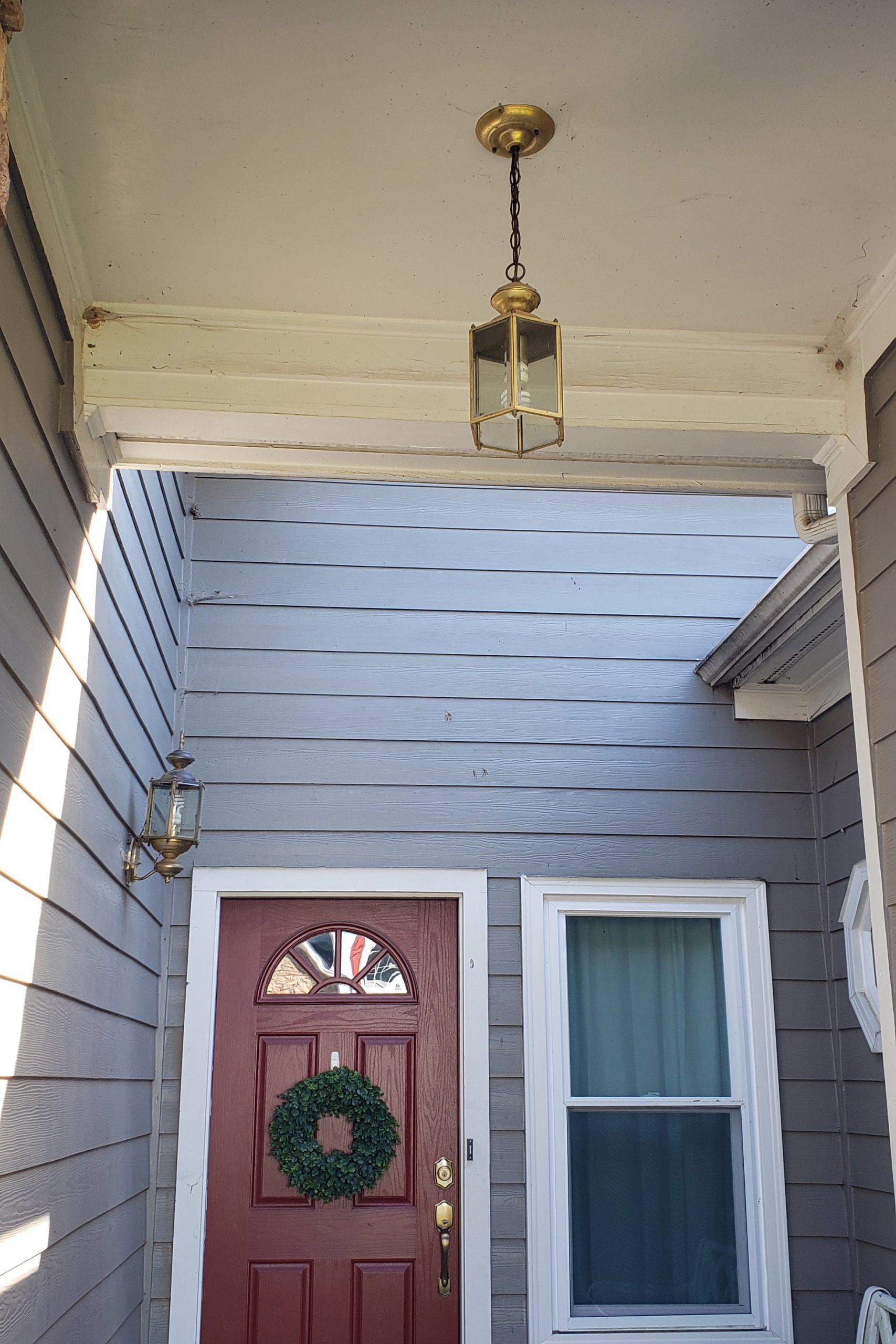 Now, the after.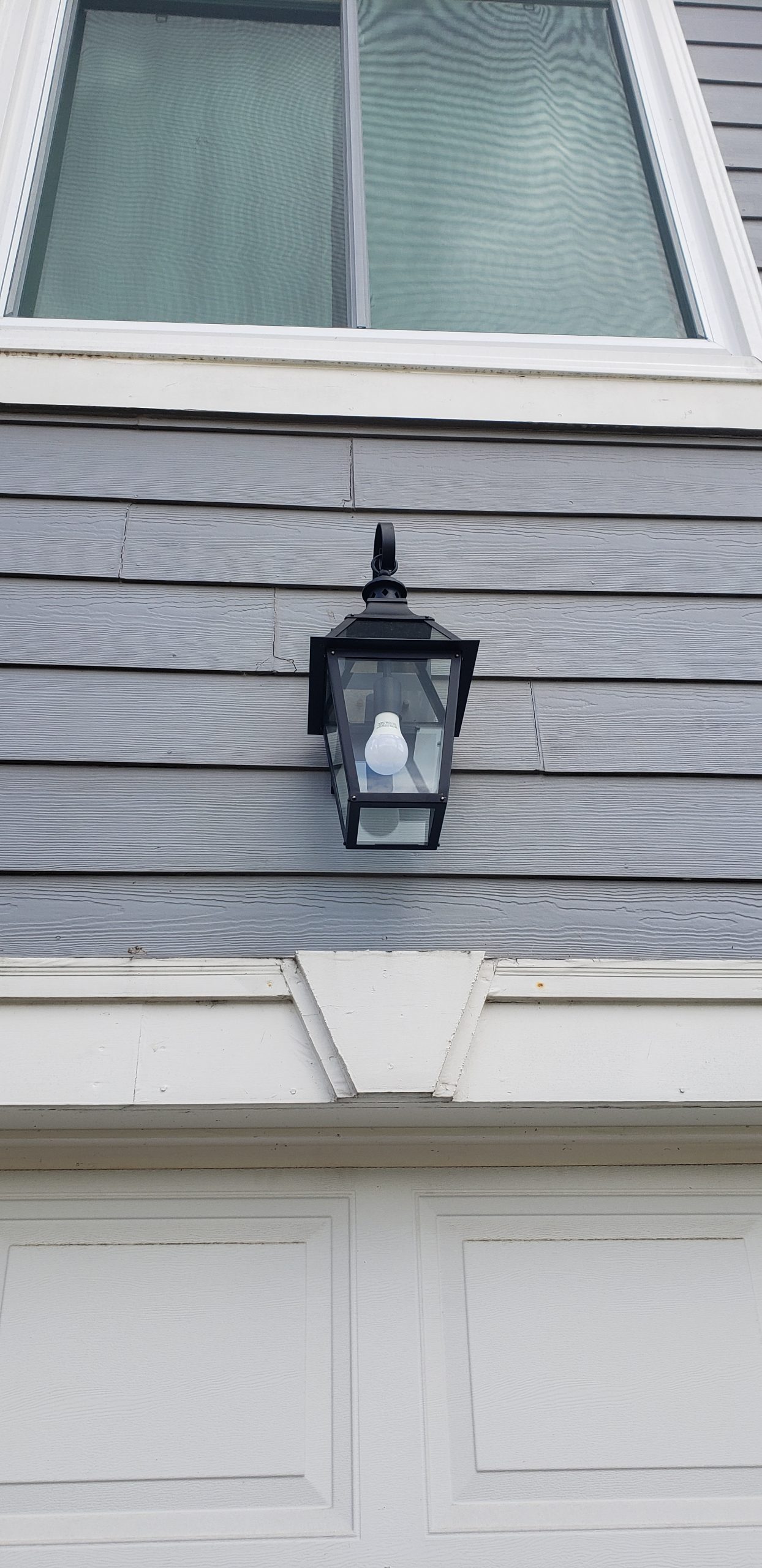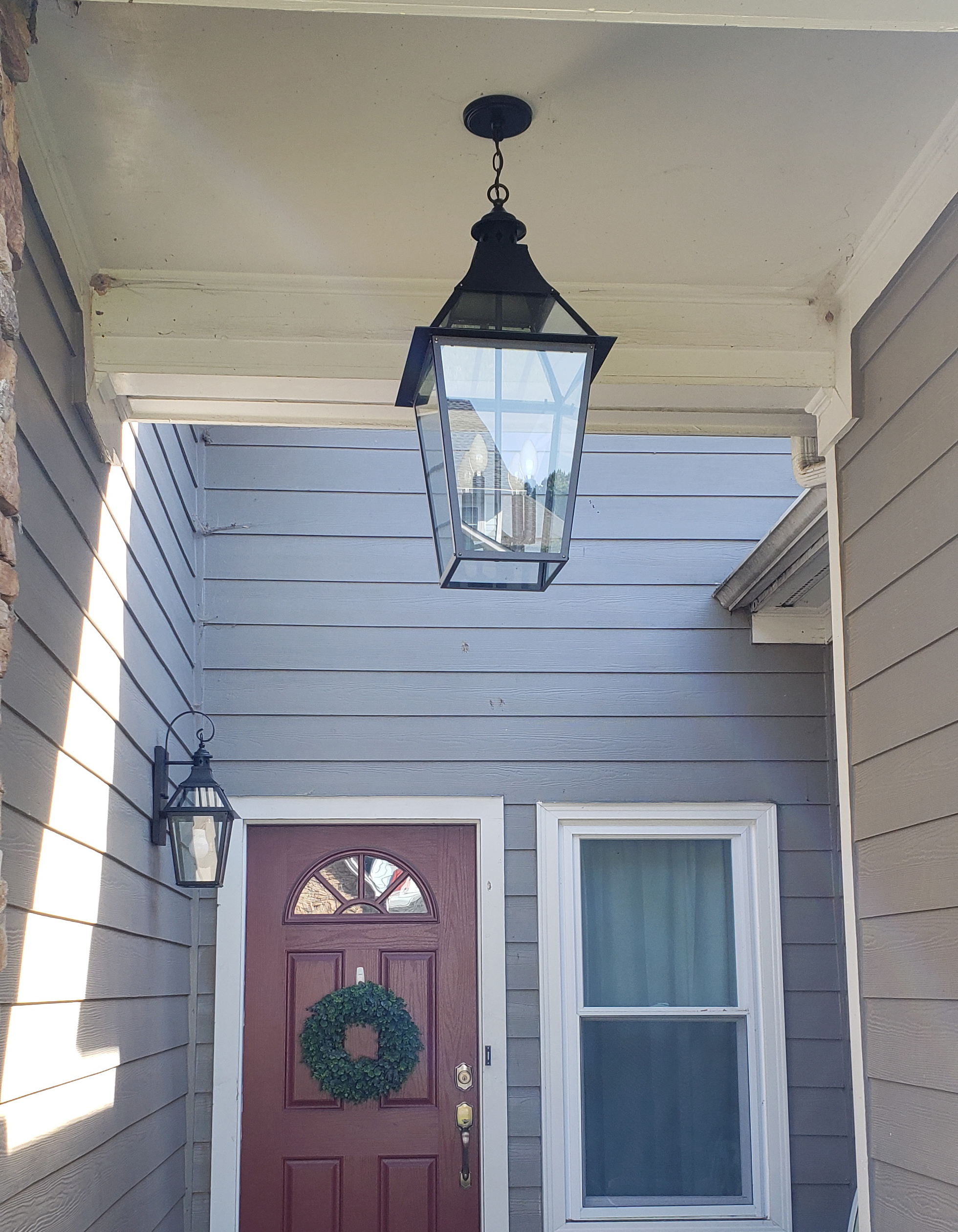 The lights are all from the Savoy House Jackson collection – this is the hanging light and this is the wall light. I like how they have a classic style and a goes-with-anything black finish. They are also generously-sized and delightfully bright, the hanging light especially!
Here's another before-and-after view of the light beside the door. We have an octagon-shaped window that creates a fun little frame: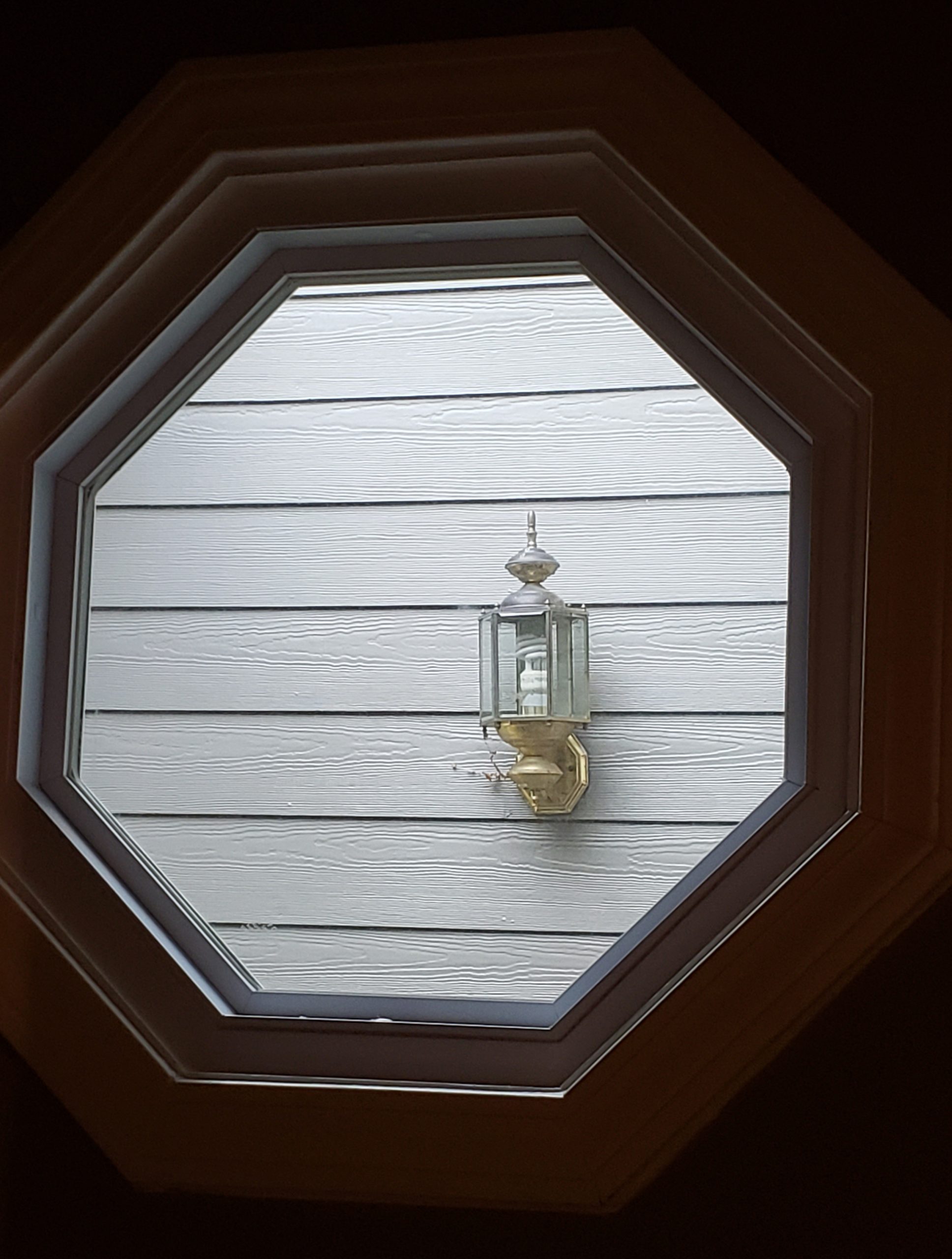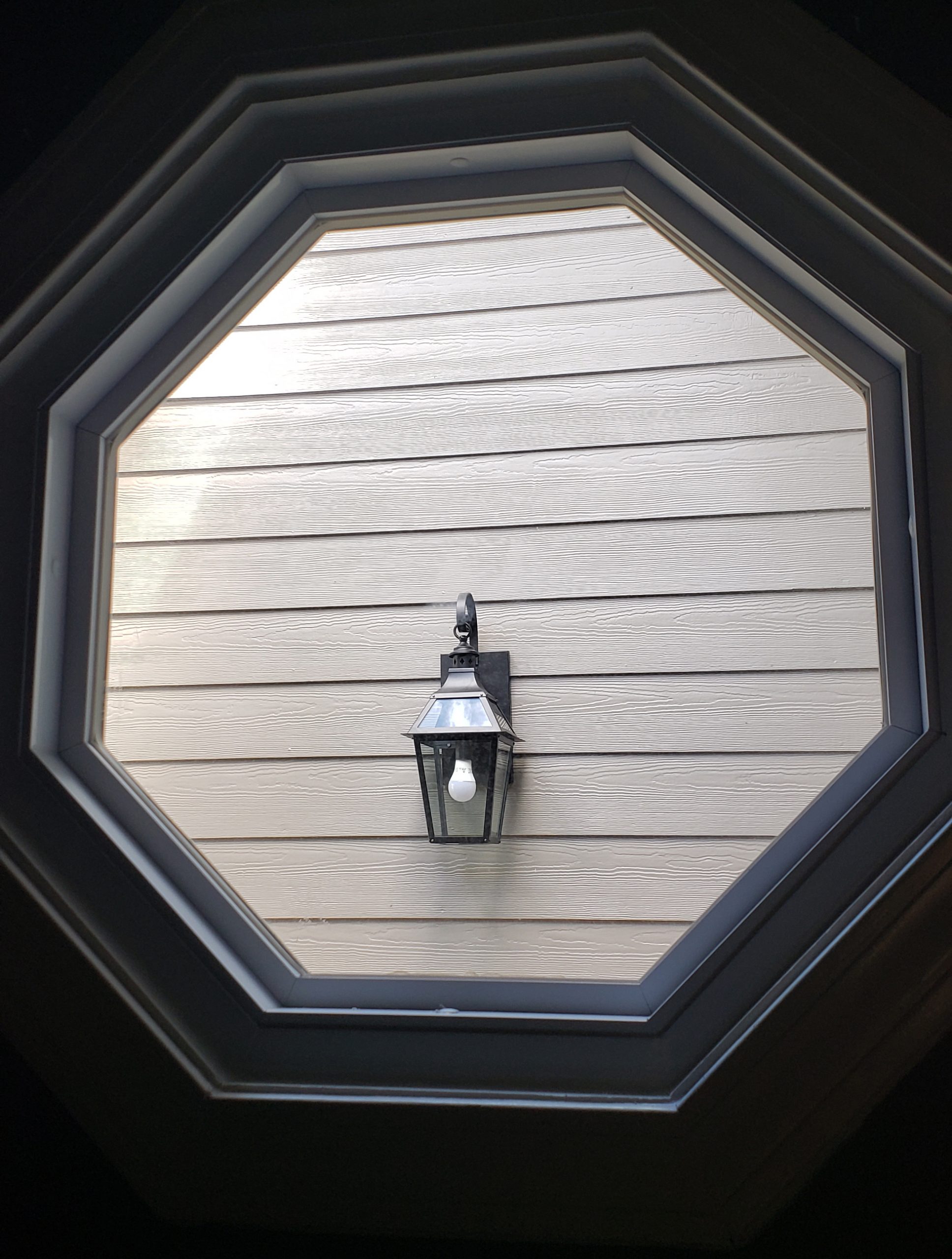 While we're talking about outdoor lights, let's also take a brief detour out to the backyard deck, because it has a light too. The previous light was outdated and definitely too small. It was barely big enough to fit the light bulb!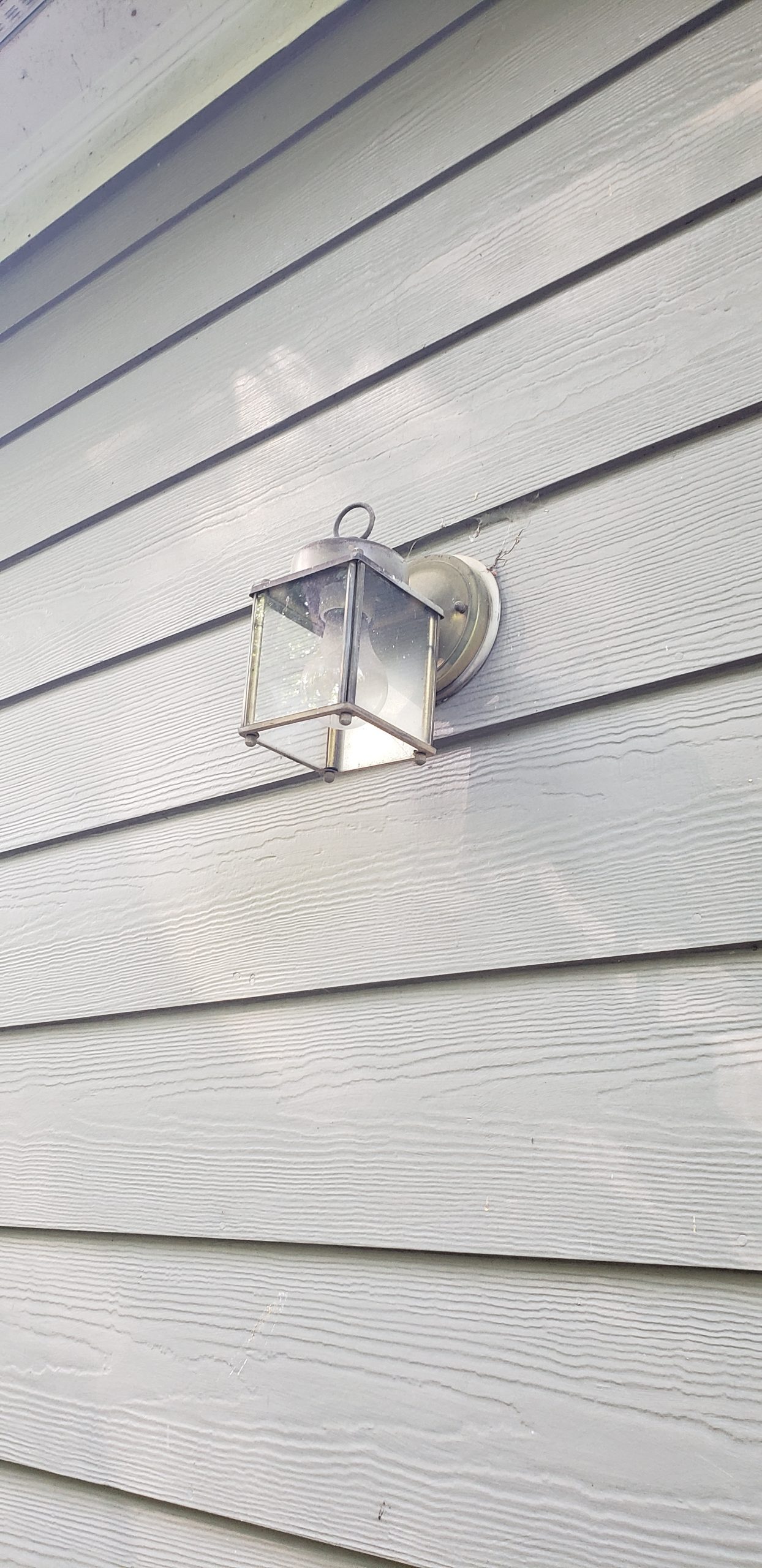 Now let's go to the after.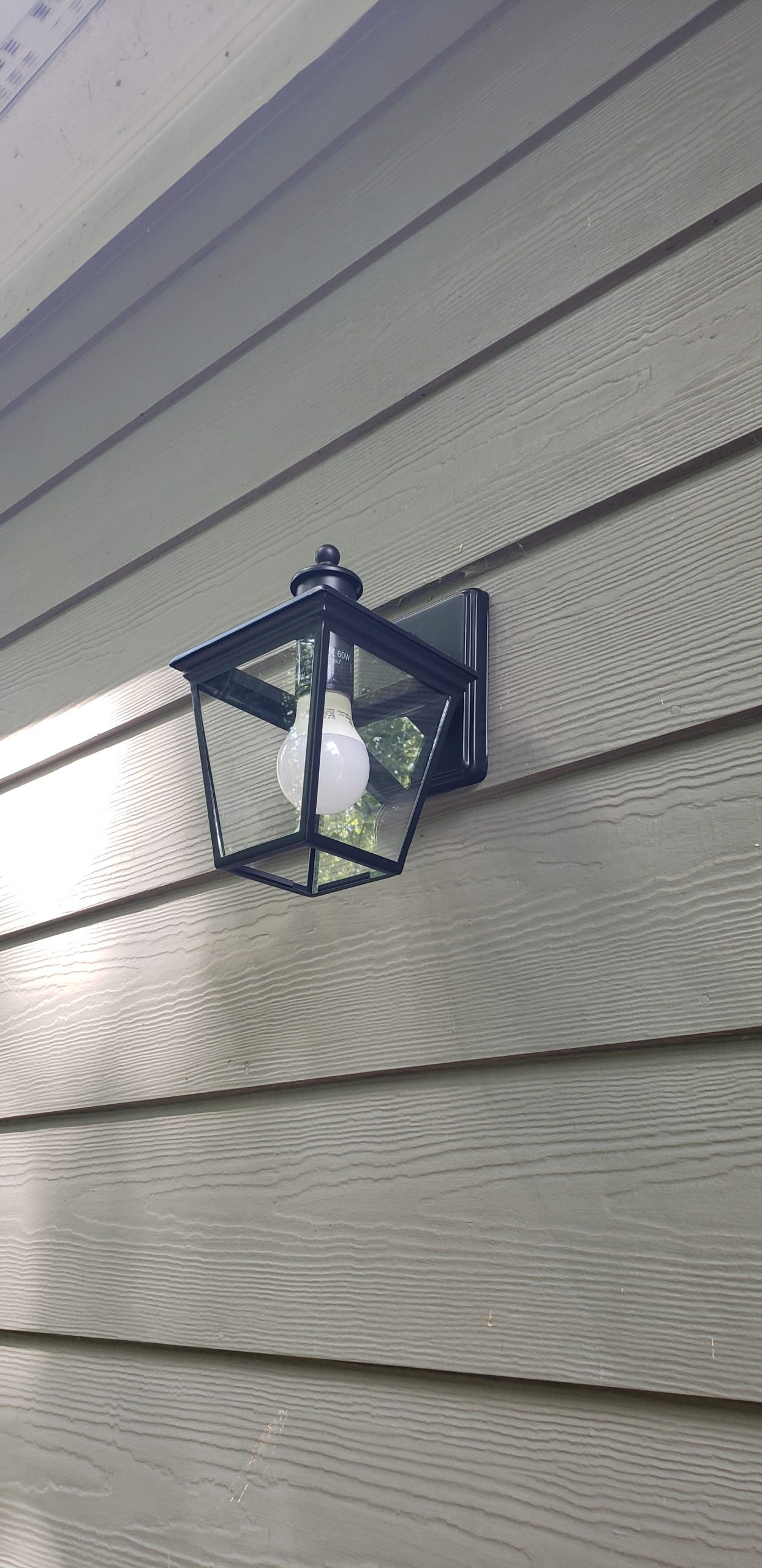 Much better! That's the Savoy House Ellijay. It too is delightfully bright – great for when our cat is looking outside through the sliding glass door and she suddenly gets alarmed by something. Now we can more clearly see if it's a possum (it's happened before!) or just a leaf.
Indoor Lights
Okay, now that we've covered all of the outdoor lights, let's go in the front door and check out that foyer light I mentioned.
It's fine, but nothing to write home about. (And yes, we do have arched doorways, and they are great!)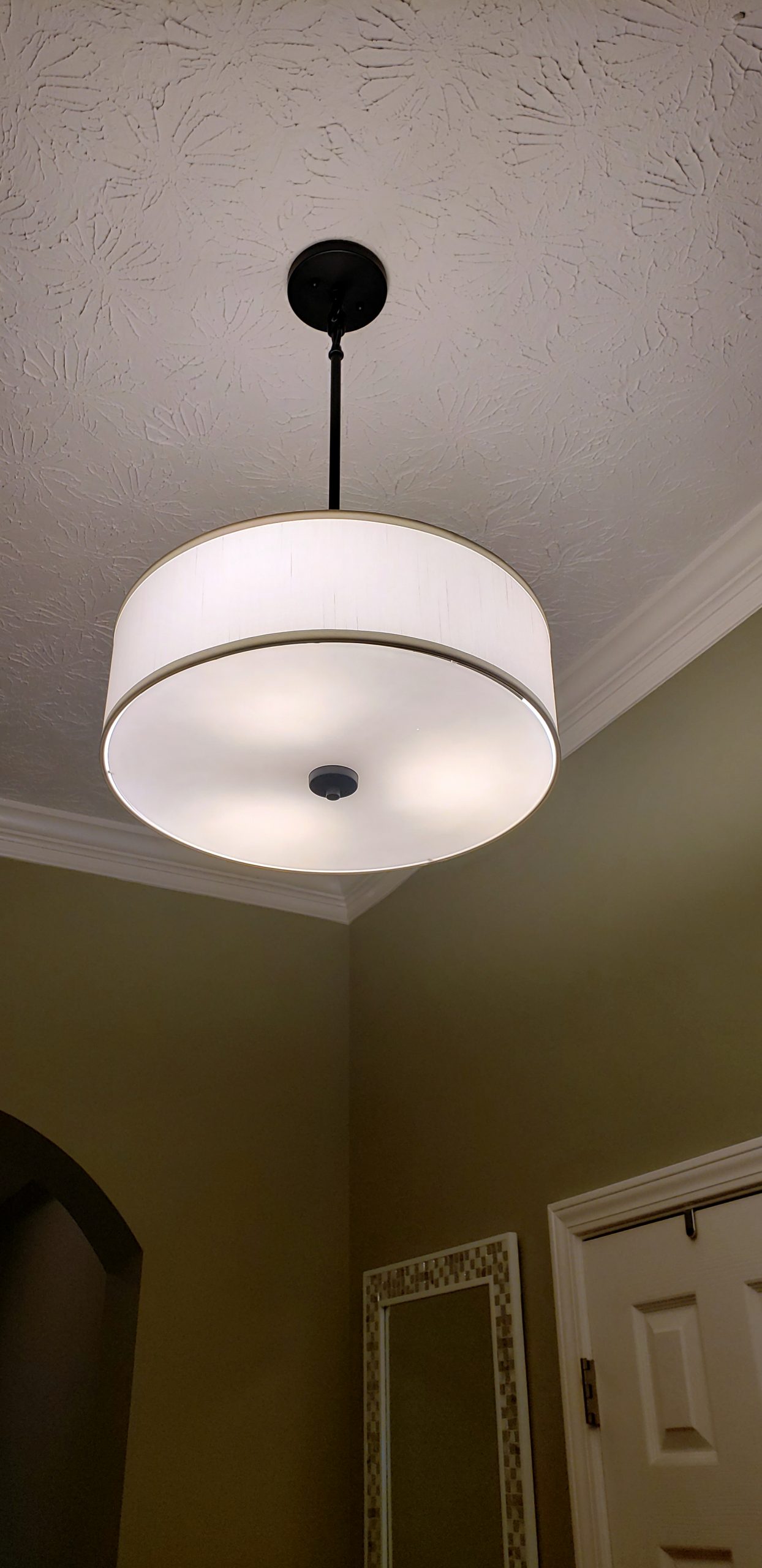 This is the Trade Winds 3-light pendant in black. We love how the drum shade here is slimmer, so it doesn't feel visually heavy.
Now let's talk about ceiling fans. I mentioned before that the fans in these two rooms were too small and too close to the ceiling.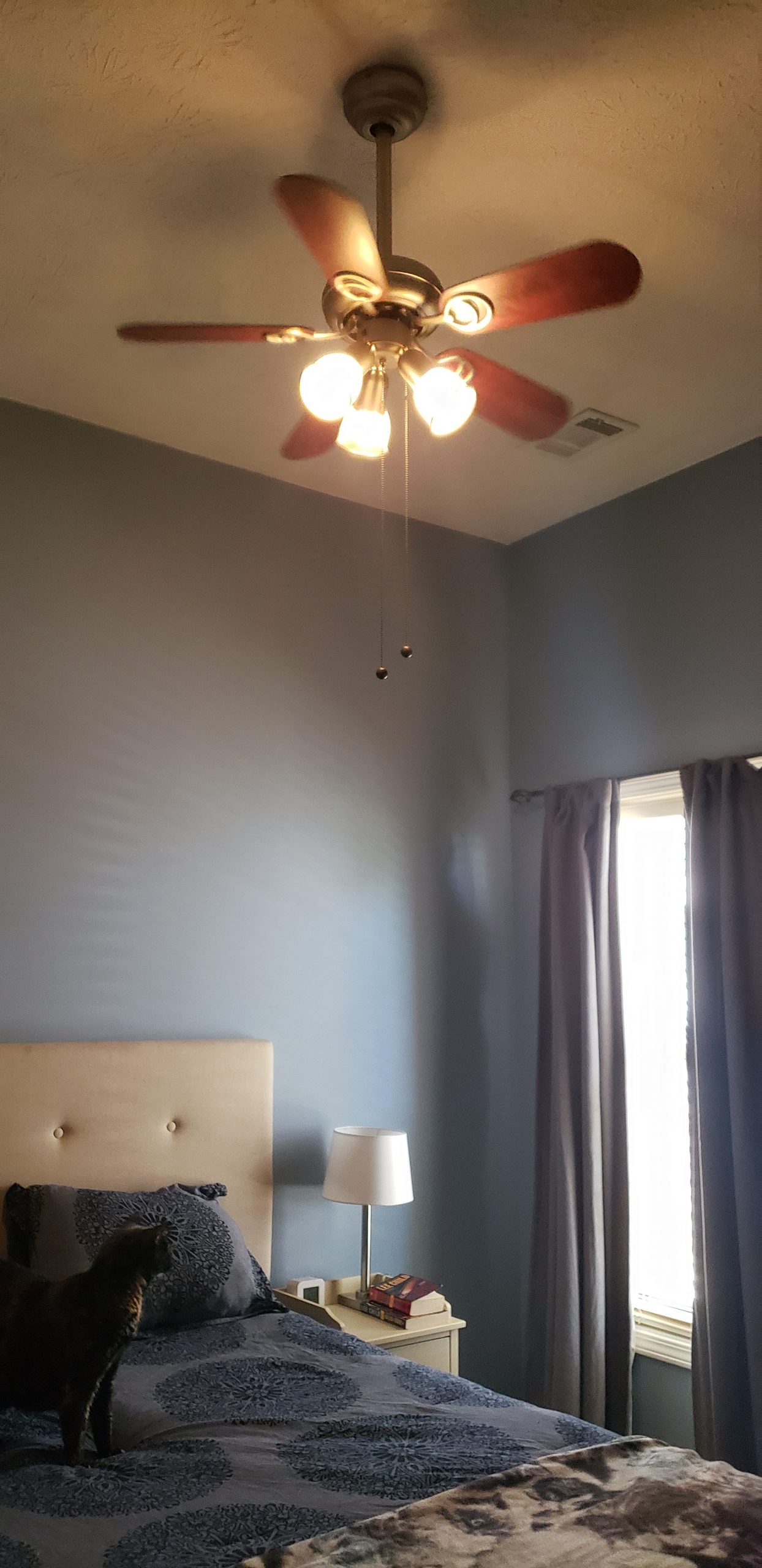 Before shot featuring our dearly departed cat Nikki, who was beautiful and perfect.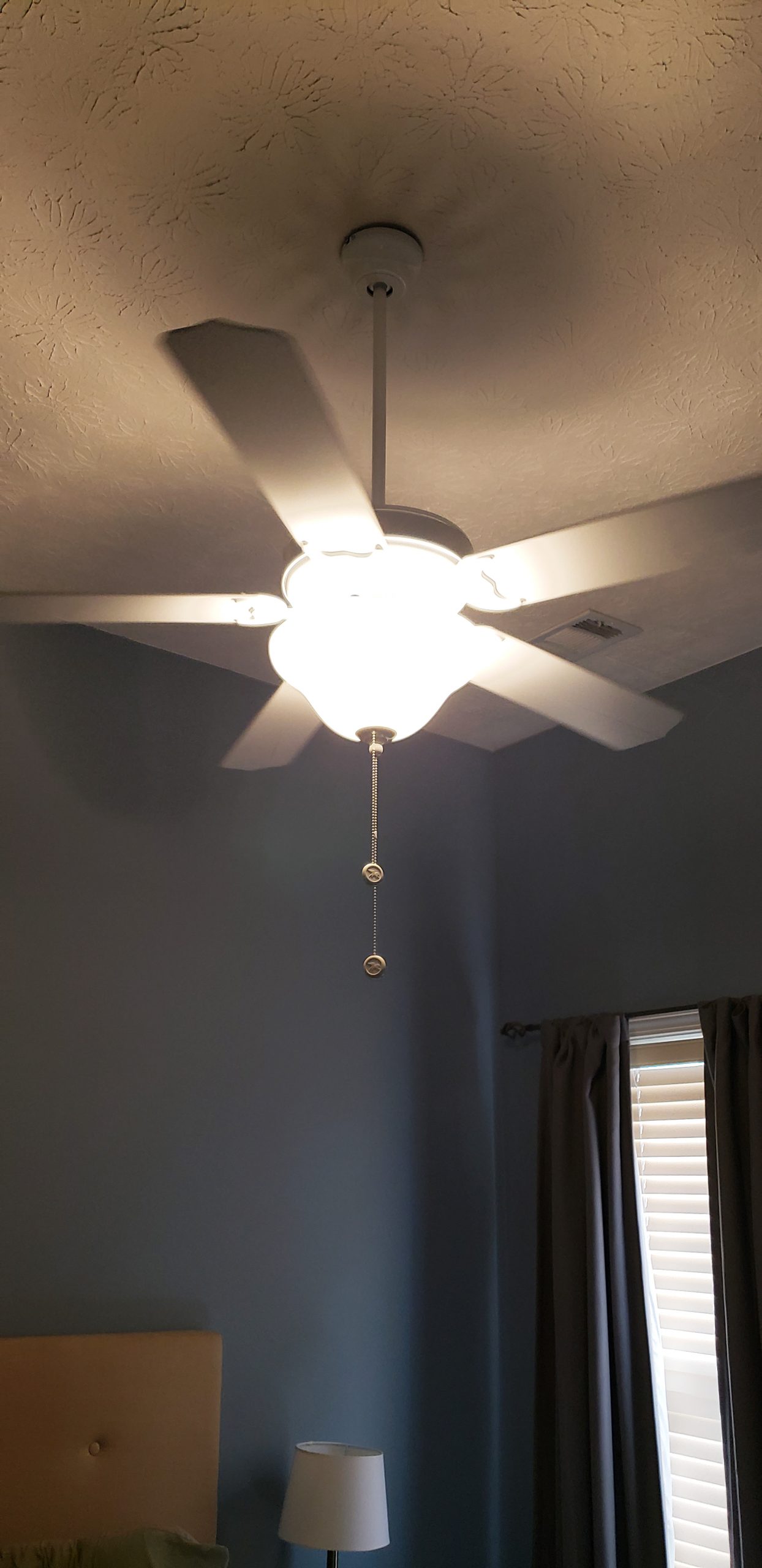 This is the Trade Winds Tobias ceiling fan in white. It blends into the ceiling, includes a light kit and moves a lot of air! Also, since it is hung at the correct height, I can more easily reach the pull chains. (I'm 5'1″, so being able to reach things isn't always a given.)
The other front room had the exact same fan situation.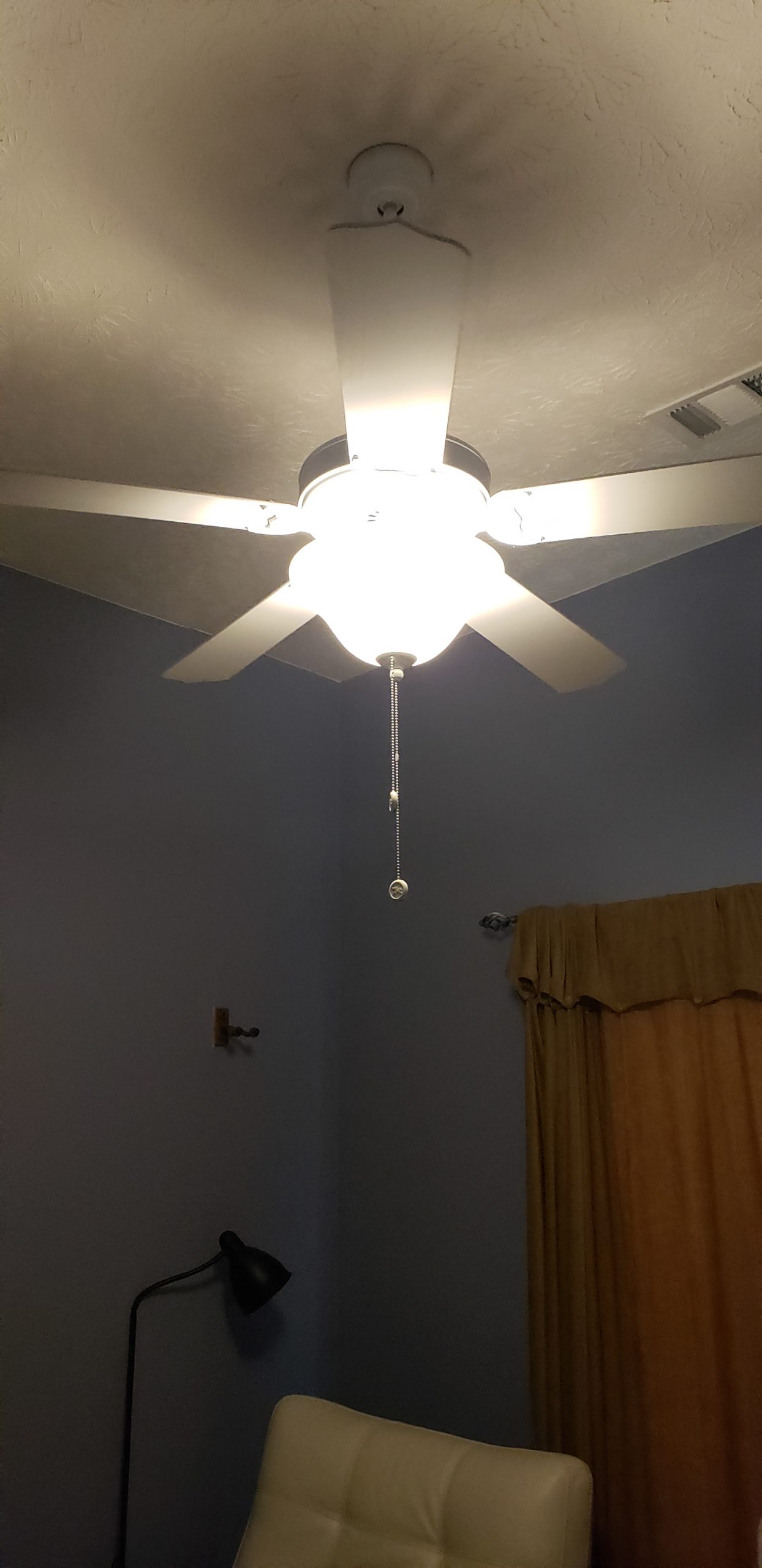 I chose the exact same fan for this room, too. The TV in there is older and gives off a lot of heat in a relatively small space, so a fan that can move a lot of air is a must.
Finally, let's go to the dining room. Really, it's more of a dining area because our house has an open-concept main space and so the kitchen, dining room and living room are all connected.
This light is by far the most "that meme of Marge Simpson hiding her face in shame" for me. We didn't even bother replacing burnt-out bulbs because we knew we were going to get a new chandelier, so by the end, it was just barely hanging on with 4 still-working bulbs: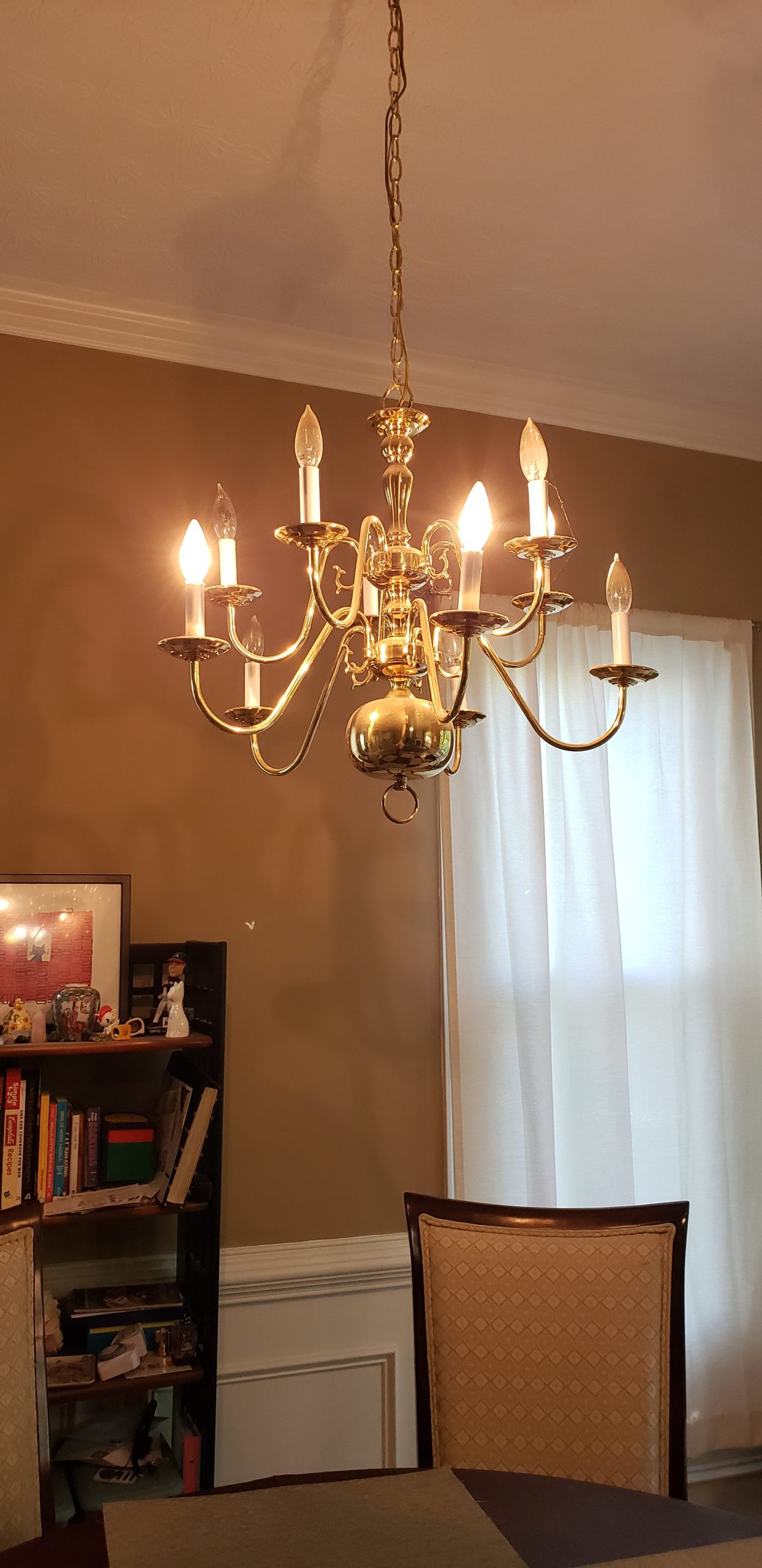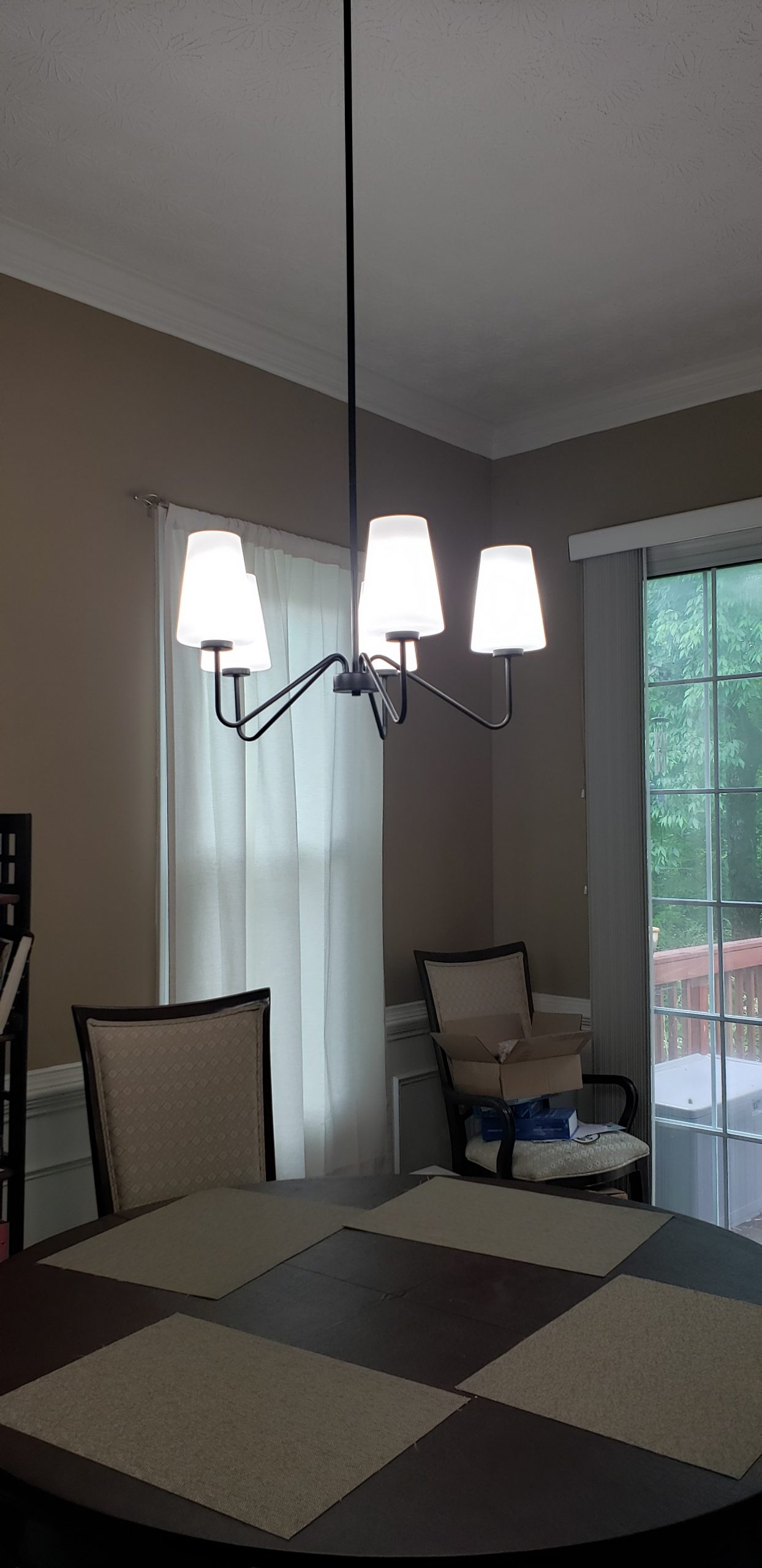 Ah, isn't that so much better? This is the Trade Winds Lighting 5-light chandelier in black. Another reason it was chosen was that its arms did not drop down as far as the other chandelier that was in consideration, which is important for my tall husband because he was concerned about bumping his head.
I chose bulbs with a cooler color temperature here because I felt they would be a truer representation of, say, the colors of the food we eat or the pages of the magazines I like to read.
We often say that swapping out lights is a relatively low-lift project that creates a huge style impact. Now I can say that is true from personal experience!
I also have some advice from personal experience:
Make sure you have everything before you buy. I forgot about the ceiling fan downrods (even though I literally wrote the guide on using them) and the little light on the deck, so I had to go back and order those things later. Double-check before you hit Purchase.
Write down how many bulbs, and what size of bulb, each light will use. Then you can buy the right amount of bulbs for your entire project at one time.
Make a note of what fixtures use what bulbs. (For example: dining room chandelier uses 5 candelabra size bulbs, outdoor wall lights use 1 standard size bulb each, etc.) I didn't do this part, which led to a little bit of indecisiveness in the bulb aisle of the home improvement store.
Plan for what you're going to do with the old fixtures and boxes. Our installer kindly hauled away the old fixtures while we took care of the packing materials.
1-Year Update
It's been a little over a year since we had our lighting makeover and we are still so glad we did it. All of the lights are looking fabulous, creating a great first impression and brightening up every day. The first Halloween after we replaced the outdoor lights went especially well – the kids in the neighborhood were easily able to see that our porch lights were on so they could come get some candy.
The ceiling fans are so efficient, making them an ideal option for Georgia's long, hot summers. In fact, now I'm thinking of replacing a couple more fans in our home. Finish one project, get inspired to start another, right?
The LED bulbs I chose are all going strong, too. We have not had to change any of the bulbs in any of the new lights yet.
If you're thinking about doing a lighting makeover, even if it's just switching out literally one light, do it. That one little swap will make such a big impact. You'll be so glad you did it.
To get lights like ours, shop Savoy House and Trade Winds! And if you need any help or advice, our customer service team is here for you – call 1-866-688-3562 or live chat with them at LightsOnline.com.