Renovating bathrooms is a popular home improvement project and people tend to buy new bath lights with the intent of keeping them for about a decade. Adding useful and helpful bath lighting is crucial to doing the job right. If your bathroom needs better lighting but you're not sure where to start, this guide will help light the way!
If you need more help or advice on bathroom lighting, do not hesitate to call our trained lighting specialists at 1-866-688-3562.
Styles of Bath Lights
Before you start shopping for bath lights, it's a good idea to know what style you want. There are 3 common bath lighting styles.
Traditional: Traditional style bathroom vanity lights often feature elegant designs adorned with decorative touches.
Transitional: Transitional style bathroom vanity lights offer a less adorned, more streamlined look than their traditional counterparts.
Contemporary: Contemporary style bathroom vanity lights showcase a streamlined, minimal flair.
Still not sure what you like? Browse our selection, pick out some lights that you like, take a look at them side-by-side and see if there's a common thread between them. This can help you discover your personal style. We are also happy to help you find the right light!
Bath Light Types and Uses
Vanity lights: Also known as bath bars, bath brackets, bath strips or vanity fixtures. These are crafted in rows that hold generally 2 to 5 lights and are usually mounted right above the mirror. Sometimes, vanity strips are mounted on top of the mirror itself for an interesting effect.
Sconces: These smaller fixtures are generally offered with just 1 light. They are ideal for mounting on both sides of a mirror to provide a great wash of light on your face as you stand at the mirror.
Pendants: These versatile fixtures can play a few different roles in a bathroom. Two mini pendants hung from the ceiling can serve the same purpose as sconces at the mirror. One large ceiling pendant in the middle of the room can be a source of ambient light.
Chandeliers: For large bathrooms, a chandelier could be perfect for overall light. Mini chandeliers can even be used at the vanity, like pendants. We recommend only hanging chandeliers in the middle of a bathroom to provide ambient light or at the vanity for task lighting. Hanging a chandelier directly over a bathtub requires lots of clearance between the fixture and the tub–and may not even be allowed by electrical code in your area.
Anatomy of a Bath Light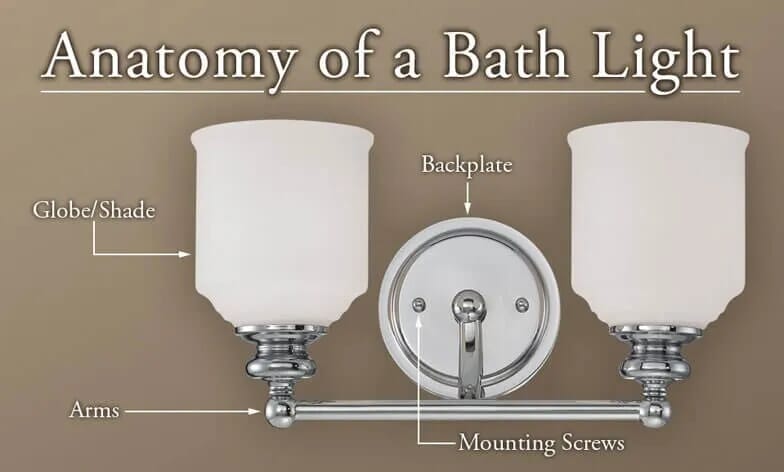 The basic structure of a bath vanity light is practical and uncomplicated. These are the basics.
–Base or backplate: attaches to the wall. It might be very small or it could stretch the entire length of the fixture.
–Mounting screws: used to mount the bath light to the wall.
–Arms: when present, arms hold the light sources out and away from the base.
–Globe or shade: encases the light source to provide softer illumination, which is best for the bathroom.
Sizing Bath Lights
For bath vanity lights
Measure the length of the bathroom mirror (or mirrors). That number will be your limit for the length of corresponding vanity lights.
Many people choose vanity lights that are about 75 percent of the mirror's length and then mount them centrally and evenly.
If you have multiple sinks or a very long mirror setup, consider that appropriately when thinking about lighting your bathroom with vanity lights. You might need more than one light or one with more lights on it.
For sconces
For an average size bathroom, buy bathroom sconces that are about 18 inches tall or a little less. For smaller spaces, try smaller sconces of 12 inches or less. In a large bathroom, you could try sconces that are 19 inches tall or even taller!
Place the brightest part of the sconce at 66 inches up because that is considered a general eye level, but you can modify this as needed based on the different heights of your home's occupants.
Mount the sconces 36 inches apart from each other, 18 inches from the center line of the sink.
Note that ADA-compliant sconces are allowed to extend no more than 4 inches from the mounting surface, which is good for narrow or small spaces.
For chandeliers and ceiling pendants
Measure the length and width (in feet) of the bathroom you wish to light with the chandelier. Then add them together to get the ideal width of your new fixture. For example, an 18 inch wide fixture would be ideal for a room that is 8 feet by 10 feet.
Chandeliers and ceiling pendants should hang 12 to 20 inches below an 8-foot ceiling. Add 3 inches for every additional foot of ceiling. There needs to be at least 1 foot of clearance for people walking below the light, too, so no one bumps their head.
Other Important Bath Light Information
The entire bathroom can get misty, especially after a shower, but that small amount of water is not the same as constant, direct exposure to water. So, it does not pose a risk to bath light fixtures.
You only really need to know a light fixture's damp or wet rating if you plan to expose it directly to water. For example: some people put small recessed lights inside their showers for focused and helpful light. In that case, you need to make sure a fixture is rated for direct exposure to water.
Are you ready to buy great new bath lights? Explore our selection of bath lighting now.
Read our other buying guides: Ceiling Fans – Chandeliers – Outdoor Lights – Pendants