Pictured: Kichler River Path
Fall can mean a few different things depending on where you live. If you live in a warmer climate, you may not experience a dramatic temperature change, so you can keep using your outdoor living spaces even as the months change! If you live in a cooler climate, you may be thinking about how to help visitors find your home for special occasions like Halloween and holiday get-togethers. Outdoor lighting can help you do all these things and more! Here are some great outdoor lighting tips for fall.
Light your walkways and doors
Pictured: Hinkley Shelter
Make sure that your driveway (or stairway, walkway or any other path that leads you to a door) is well-lit by using path lights. Place each path light about 6 feet apart and stagger them on both sides of the driveway, stairway or walkway for an even, not-too-bright wash of light.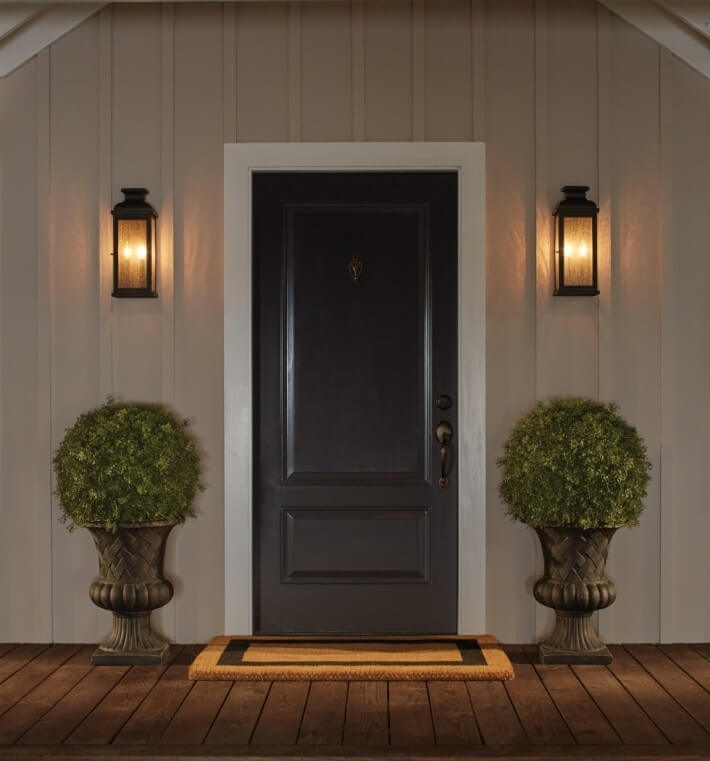 Pictured: Feiss Pediment
At your front door, make a statement and be seen with outdoor wall lights. But make sure you aren't using ones that are too small! If you are only using one lantern, choose one that is one-third the height of the door. Standard door height is 6 feet 8, or 68 inches, so 1/3 of 68 is 22.6. Using two? Make that one-quarter the height of the door. (That's 17 inches if you have a standard height door.)
Other doors are well-served by outdoor wall lights or flood lights, if you want a little extra security.
Lighting a garage door? The same rules about size apply here too.
Watch your step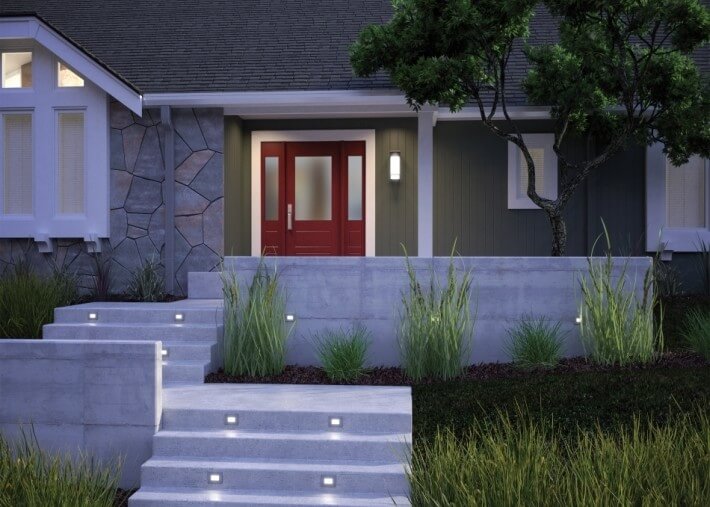 Pictured: LBL Vitra
If you have a deck or steps, consider adding another touch of safety with deck and step lights. These little fixtures can be placed inside or beside steps to better illuminate the area. You might also want to put these fixtures at the edges of your deck or anywhere else that could use a touch of light.
Pictured: Kichler deck lights
Show off your home's fall features
Landscape lighting can help spotlight interesting features on your home, like stone walls, trees, topiaries or other foliage. There are a few different methods you can try: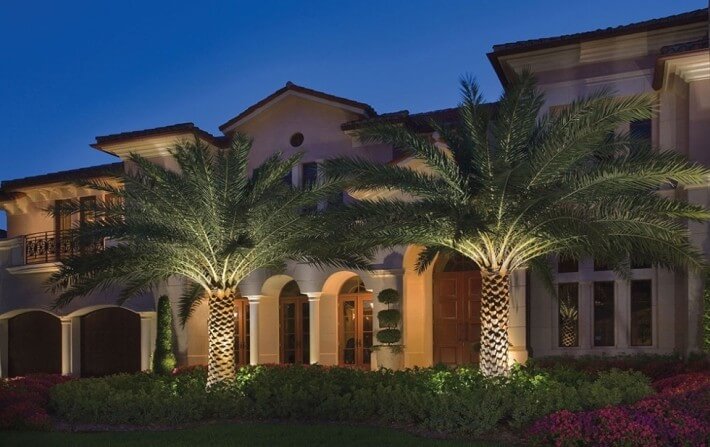 Pictured: Kichler spot light
Uplighting – this means lighting an object from below (light pointing up, hence the name) to create a focal point. It's a great way to spotlight trees. Get the look with a single spot light aimed right at the tree or other cool object.
Pictured: Hinkley spot lights
Silhouetting – this brings dramatic light to an object, like a tree or statue. Get the look by putting a single spot light between the object and the front of your home, then aim the light at your home instead of the object.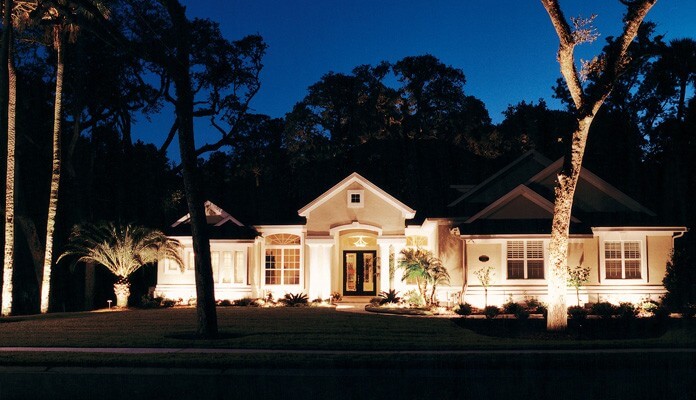 Pictured: Kichler spot lights
Wall washing – this means providing subtle, overall illumination on a wall or surface. You probably guessed it, but this is perfect for spotlighting walls, such as stone work. Get the look by putting spot lights along the front of the home.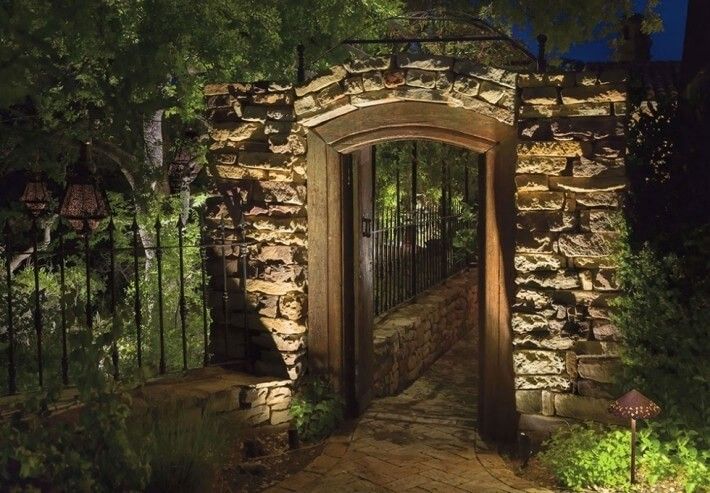 Pictured: Kichler spot light
Grazing – this emphasizes a textured surface like climbing ivy or a stone wall. Get the look by placing a spot light within a foot of the surface and aiming the light beam parallel to the surface.
Hang out outside
If you are able to keep using your outdoor spaces in autumn, why not make sure those areas are well-lit too?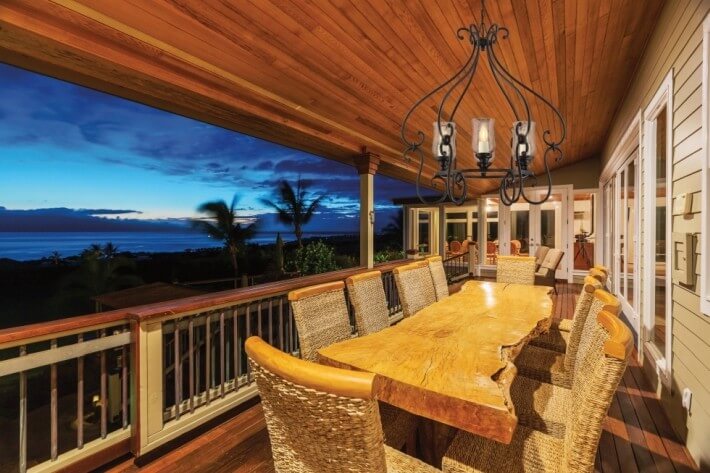 Pictured: Savoy House Weston
Try making these spaces more inviting by using outdoor chandeliers or outdoor pendant lights. These fixtures look just like their indoor counterparts, but are designed to withstand the elements. Look for lights with a damp area rating if you're using them in a covered area, like a patio. Look for lights with a wet rating if you're using them in an uncovered area, like a pergola.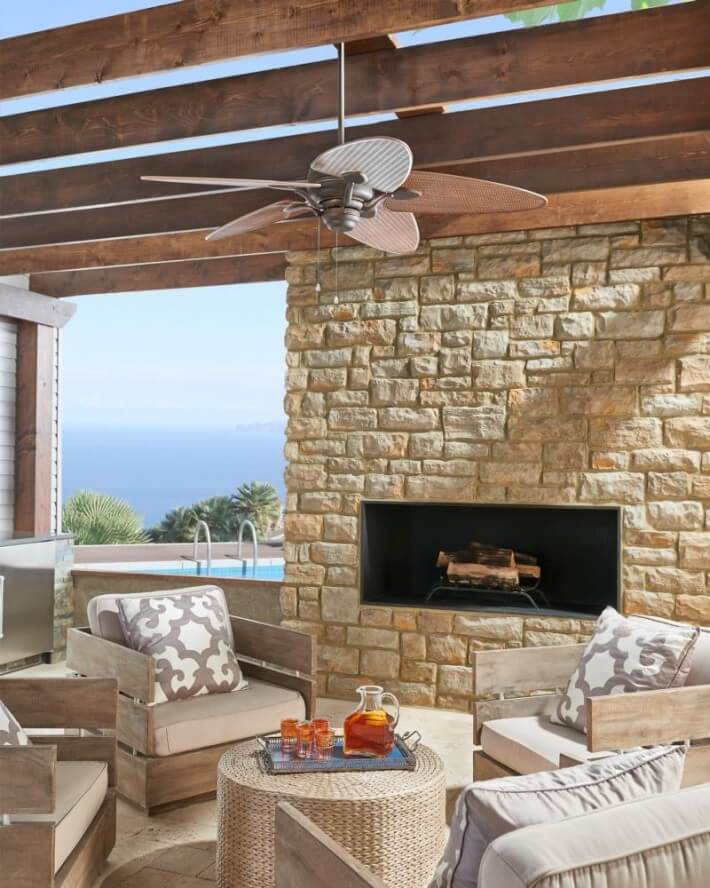 Pictured: Monte Carlo Peninsula
Outdoor ceiling fans are a smart way to add comfort and illumination. You can even find special ceiling fan light kits that are also Bluetooth speakers!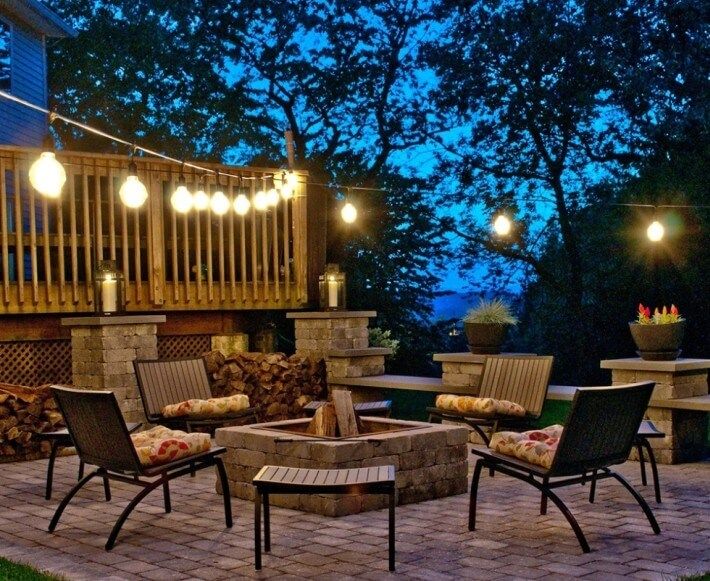 Outdoor string lights bring a fun and magical glow to your great outdoors. (Learn more about string lights and get tips on how to install them here.)
Ready to shop? Browse our full selection of outdoor lights. If you need more advice about illuminating your great outdoors, try Lighting Ideas by Room and How-To Lighting Guides. You can also call us at 1-866-688-3562.
Sign up for our email newsletter today and score an additional discount!