Create a beautiful first impression outside your home with outdoor lights. Available in more styles and types than ever before, no matter what style you like, you're going to find outdoor lights that are perfect for your needs and wants. Our complete outdoor lighting guide is a must-read before you embark on a lighting makeover project. Read on to learn everything you need to know!
Types of Outdoor Lighting
Outdoor wall lights: Traditionally used in pairs to illuminate a home's entrances, these fixtures are attached to the house's exterior walls.
Outdoor ceiling lights: Great for homes with covered porches, garages, carports and front doors with alcoves. These can help fill a space with general ambient light.
Outdoor post lights: Used to illuminate spaces that aren't attached to the house, like the driveway or sidewalk. An excellent choice for homes with long driveways or extended outdoor entertaining spaces, like swimming pools.
Outdoor hanging lights: These fixtures make a statement outside homes with covered porches. Outdoor chandeliers are even becoming popular, too!
Outdoor ceiling fans with lights: Choose a ceiling fan specially designed to withstand the elements and watch your outdoor living spaces become even better.
Path lights: Placed alongside walkways, path lights keep spaces bright and visible no matter the time of day or night.
Deck and step lights: These small lights spread soft, glare-free horizontal light that help improve safety and security. They can be mounted to a deck's railing, built into or placed atop stairs, or even placed on the side of the house itself.
Landscape accent lights: Used to spotlight things like trees, statues or other interesting elements in your yard. These come in a variety of sizes and light beam shapes, from a very concentrated beam to a very wide beam.
Path lights, deck and step lights and landscape accent lights are generally low-voltage (12 volt) fixtures while the other types of outdoor lights are usually line-voltage (120 volts).
For landscape applications, low-voltage fixtures are great because they have lower energy costs and are safer just in case you cut the wiring while gardening or renovating. A 12-volt current is harmless to the touch, whereas a 120-volt current is dangerous. You will need a transformer to go with your low-voltage landscape lights.
Planning Your Outdoor Lighting
Your outdoor lights should help you create a safe and inviting environment. Here are 4 common areas that could use some outdoor lighting love.
Entrance Doors
At your home's main entrance, your outdoor lighting should illuminate the lock and help you identify visitors. Use an outdoor wall light on either side of the door to help you achieve this goal. Secondary entrances should also be lit, but a single fixture is usually enough.
Look for lights with designs that allow plenty of light to pass through without creating glare.
The Feiss Galena lanterns pictured here are a good choice: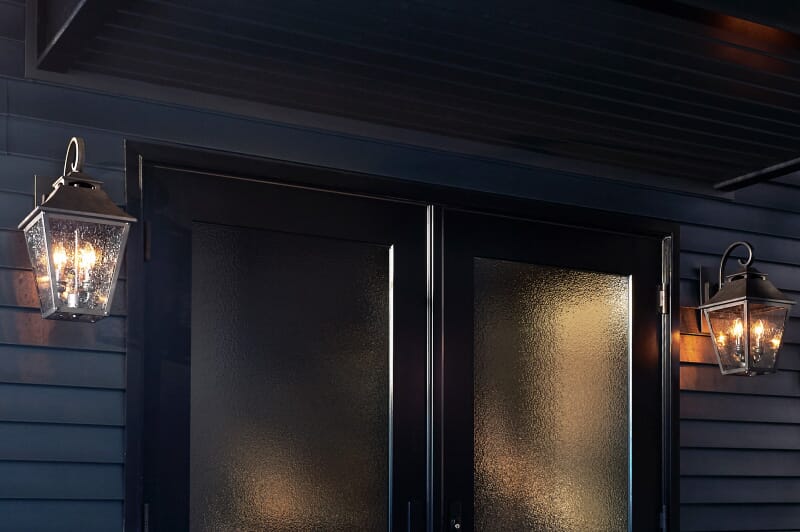 Garage Doors and Driveways
If you have a garage or carport, add outdoor wall lights there, too. One light mounted over the center of the door or two lights flanking the door are common ways to light a carport or garage.
You also may want to consider adding outdoor post lights at the end of your driveway, especially if that area is not well-lit by streetlights.
Stairs and Paths
In these areas, make sure that your outdoor lighting illuminates steps, slopes or other changes in the grade. For stairs, check out deck and step lights, which can even be built into a wall or into stair risers.
Path lights are perfect for paths—they're called path lights for a reason, after all!
Decks and Patios
To make sure that your deck or patio is a functional social space, mount outdoor lighting fixtures at the height of your patio furniture cushions. This will keep people from getting harsh glare in their eyes when they sit down to enjoy the space. Deck lights are perfect for this!
Pay special attention to areas where activities are performed, like around the grill or at the poolside. If some extra light is needed in these areas, this is a great time to add it.
String lights are a really smart idea for exposed outdoor living areas and they look great!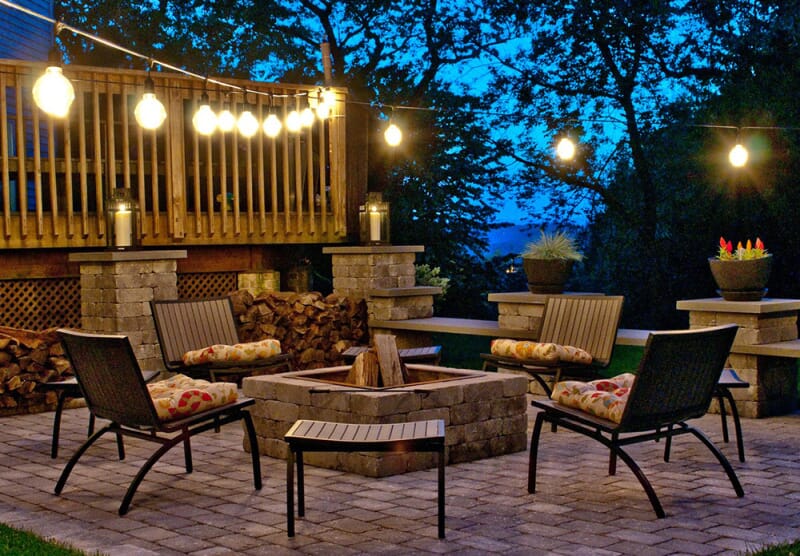 Before Buying Outdoor Lighting
There are a few things to keep in mind before you start shopping for outdoor lighting.
Outdoor lights are either damp location rated or wet location rated. The difference is that wet location rated lights can be directly exposed to the elements while damp location rated lights need to be in a covered area.
Fixtures like outdoor wall lights are going to be wet rated, since they are often used in uncovered areas. On the other hand, outdoor hanging lights are usually damp rated, since by design they need to be used in a covered area so they can hang.
Make sure you check the rating of outdoor lights before you buy.
If you live on the coast, try looking for fixtures that are made from more durable materials such as marine-grade resin or solid aluminum. These materials are great at withstanding salty air. Coastal Armour by Quoizel and StoneStrong by Feiss are two collections of super-durable outdoor lights.
Based on where you live, you might be required to limit the amount of outdoor lighting or use Dark Sky fixtures. Those are designed to reduce light pollution, which can interfere with our view of the stars, disrupt ecosystems and affect human circadian rhythms.
Sizing Outdoor Lighting
Choose wall-mounted outdoor lights based on the height of the door.
If you plan to use just one lantern, look for a wall light that is one-third the height of the door. But if you're using two lanterns, choose ones that are a quarter of the height of the door.
Mount the lanterns slightly above eye level. The center of the bulbs should be 66 inches above the threshold. Proper sizing is critical so you can maintain clearance between the top of the fixture and your ceiling.
Hanging outdoor ceiling lights should descend 12 to 20 inches from an 8-foot ceiling. Add 3 inches for every additional foot of ceiling. Allow at least 1 foot of clearance below the fixture, too.
For post or fence lights, go as big as you would like since perspective means the lights will look small from far away.
You can also check out our Outdoor Lights Buying Guide for more information about common styles of outdoor lighting and a breakdown of what parts make up an outdoor light.
Need help with outdoor lighting? Leave a comment below, email us at [email protected] or call 1-866-688-3562.