Adding new lamps to your home is a super easy way to make a big style impact! That's why it's really important to make sure you pick out the right size for a lamp. One that's too small won't work well and one that's too big will overpower the room—plus, wrongly-sized lamps will need to be packed up and returned.
Our lamp sizing guide is here to help you find the perfect lamp for your room.
Photo credit: Sherry Hart of Sherry H. Designs
First, measure the width and height of the table where you're going to put the lamp. Look for lamps that are no more than 1.5 times as high as the table. Also, look at the diameter of the lamp shade. It shouldn't be any wider than the tabletop.
Let's say you have a table that is 32 inches tall and 18 inches in diameter. A lamp for that table should not be any taller than 48 inches and should have a shade no wider than 18 inches.
Also, consider what kind of room it is where you want to add the lamp.
In a living room, 26 to 34 inches is a good height for a lamp.
In a dining room, try taller, slimmer buffet lamps with heights up to 36 inches.
In a bedroom, up to 30 inches is great for lamps on bedside tables.
Along with table lamps, you'll find more and more wall lamps on the market. These fixtures are attached to the wall and give off helpful task lighting just like table lamps, but they're a smart idea for small spaces or anywhere a table lamp just can't fit.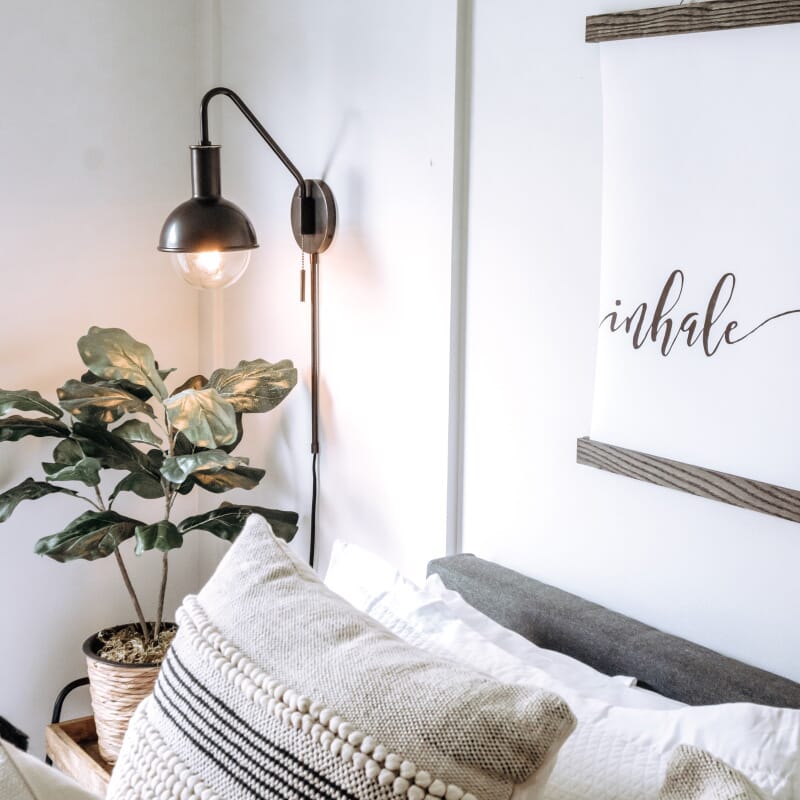 Photo credit: Jennifer Feliciano of The Floridagirl
If you want to use wall lamps and need to know what size to get, first, grab someone who can help you measure because you can't do this alone.
Wall lamps are often used near a bed or a couch, so sit in the bed or on the couch normally. (You can even bring a prop to help you imagine the tasks you do while sitting.) Then, have your friend measure the height from the floor to just above your shoulder.
The ideal spot for wall lamps is between your head and the work surface because then the light won't shine directly into your eyes.
Adjustable wall lamps are a good idea, especially if the people in your home are of different heights and so they may sit at different heights. Plus, they're available in lots of styles, including plug-in options!
Need advice on lamp sizing? Comment here, call us at 1-866-688-3562 or email [email protected]!