The chandelier has been an ideal way to light a home for thousands of years. In fact, the earliest example of a chandelier is in the walls of French caves that were once inhabited by cavemen: there are holes in the walls because the cavemen needed a place to hang their torches. (You can also read more about the history of the chandelier. It's an interesting story!)
Chandelier design has, of course, evolved over the centuries and now there are more chandeliers available than ever before. Whether you want something ornate and traditional or something modern and unique, whether you need something big or small, there is a chandelier to fit your needs.
This buying guide will help you find your new favorite light by teaching you the basics about chandeliers. People tend to buy chandeliers to keep for about a decade, so this guide will help you make the best and most well-informed buying decision.
Chandelier Styles
These are the 3 most common styles.
Traditional: Probably what comes to mind when you hear the word chandeliers: elegant, crystal-adorned fixtures that work best as a focal point because their ornate beauty demands your full attention. Today, traditional chandeliers are available in a range of sizes and prices – and they don't always have crystals, either!
Transitional: A midway point between traditional and modern styles. Transitional fixtures generally aren't ornate, but aren't offbeat either. Straight lines, simple curves and sophisticated design define transitional chandeliers. Transitional style is versatile and designed to pair well with anything.
Contemporary: Contemporary chandeliers can take the shape of anything from a dazzling crystal confection to a space-age look. Common elements include clean lines, unique shapes and metallic finishes. Many contemporary fixtures are also green, featuring elements like recycled materials, energy efficiency or LED lights.
Mini chandeliers, also known as chandelettes, are a great idea for adding chandelier beauty in smaller rooms. Like their larger counterparts, they run the gamut of decor styles from traditional to contemporary and more.
Anatomy of a Chandelier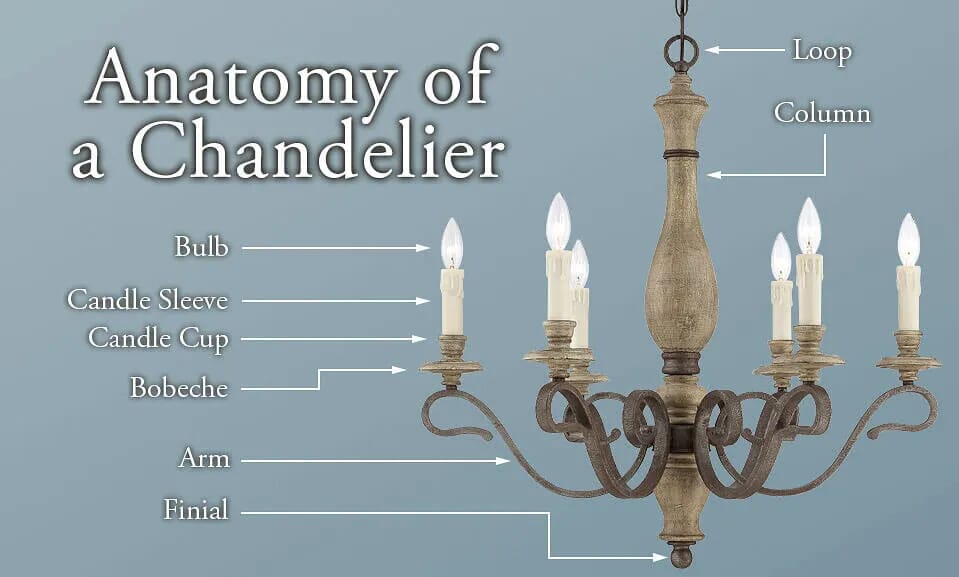 Loop: Connects the fixture's chain to its body.
Column: The main structure of the chandelier.
Bulb: The light source. Candelabra bulbs, which look like candle flames and are pictured here, are commonly used.
Candle Sleeve: A decorative and protective element designed to look like a wax candle.
Candle Cup: Holds the bulbs.
Bobeche: When chandeliers used actual wax candles, these pans played a crucial role–catching wax drippings so people didn't get hot wax dripped on them. While that's not an issue anymore, bobeches are still found in many designs.
Arm: Structures that hold the bulbs away from the column.
Finial: An ornament that often hangs alone at the bottom of the fixtures. Crystal finials are common.
Some styles, especially contemporary and modern styles, may not include some of these parts.
Sizing Chandeliers
Finding the right size for a chandelier depends on where you are going to use the fixture.
If you're going to use the chandelier above a table or island, measure the width or diameter of that area in inches. Then, look for chandeliers that are between 2/3 and 3/4 of that width or diameter.
If you're going to use the chandelier as general room lighting, measure the length and width of the room in feet, then add them together to find the ideal width of your chandelier in inches. (Example: An 8 foot by 10 foot room can be well-served by an 18-inch wide fixture.)
For rooms with lower ceilings, get a fixture that isn't too large or else the room will look like it's caving in. Higher ceilings can handle bigger fixtures. A chandelier with a complex design will look bigger than it actually is, so keep this in mind too.
The standard height for hanging a chandelier is 7 feet off the floor, but you can adjust this as necessary depending on the size of the fixture, the height of your room's ceiling, how tall the people in your home are and so on. (You can read more specific information about light fixture sizing.)
Chandelier Installation
Learn how to install a chandelier here!
Ready to shop? Browse our wide array of chandeliers now!
Read our other buying guides: Bath Lights – Ceiling Fans – Outdoor Lights – Pendants