Laundry rooms tend to fall into two separate camps: utilitarian and overlooked in terms of lighting and design or a stunning space that may even serve to fulfill many needs. Laundry rooms are often combined with mudrooms, pet spaces, home offices, crafting space, pantries, powder rooms—the sky's the limit. Part of making your laundry room special and giving it personality is to think about its lighting. Here are a few things to consider. We'll use some photo examples from Houzz in this article, too!
It's always great to add natural light to your laundry room--actually, it's great to add natural light to any room--but it's also good to supplement it with electric fixtures for if the weather is dreary. Of course, it's not always possible to get natural light in a laundry room for many different reasons. That's OK too.
Depending on the size and features of your laundry room, you may be looking for different light fixtures. For example, if your laundry room is very small, consider overhead lighting like a ceiling flush or semi-flush mount since space is at a premium.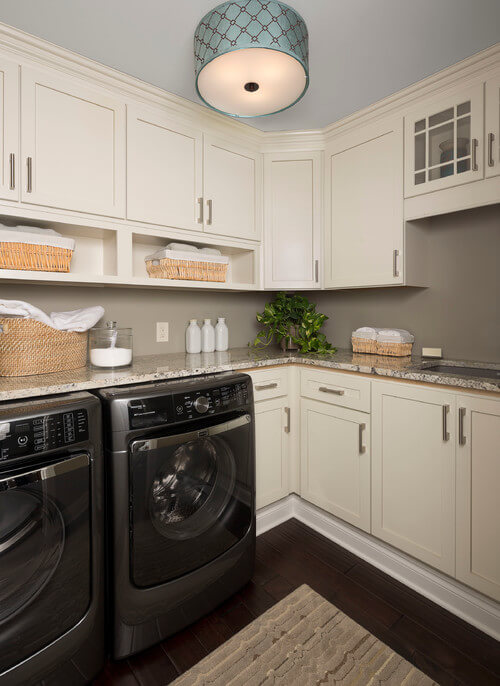 Here's a ceiling flush mount light in a drum shade style. It also has a fun pattern that catches the eye! To get a look like this, you could try gluing fabric of your choice onto the drum shade of the Savoy House Grove, though it looks great as is too.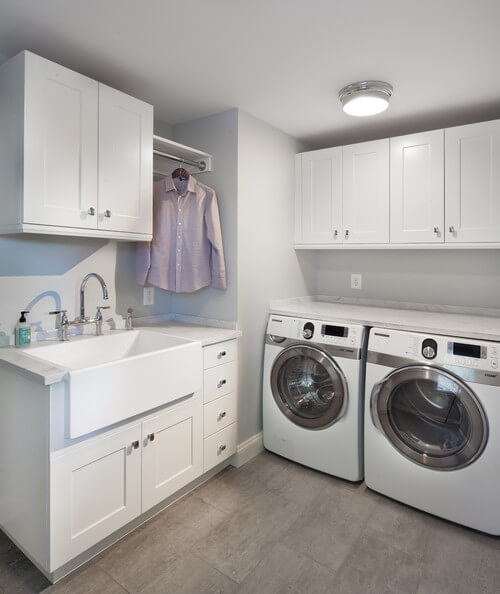 A sleek and streamlined flush mount provides lots of light. Get a similar sleek look and the energy-efficiency of LED with Alico Sydney.
For an infusion of glamour, try a chandelier or a mini chandelier.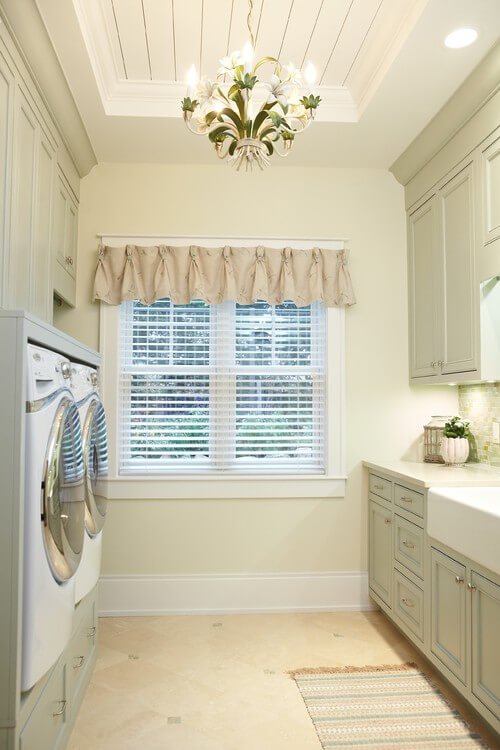 The pretty floral motif in this tole chandelier really ties the room together. The Crystorama Southport collection has a lovely tole look.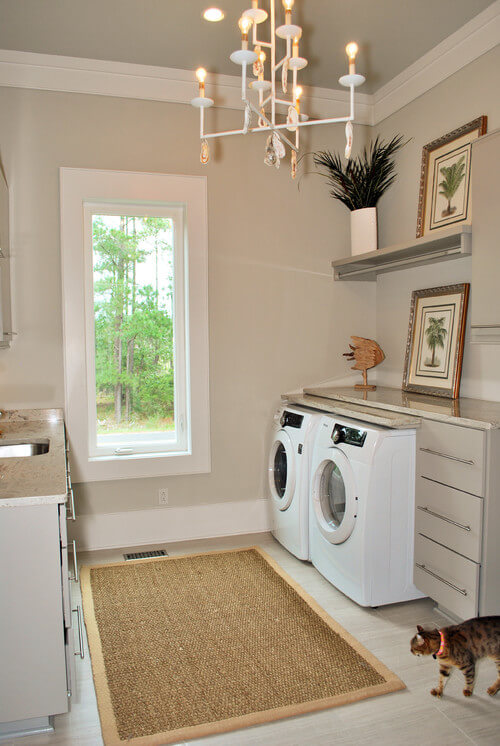 How about this chandelier? Highly structured, featuring stylish exposed bulbs and dangling shell adornments, it stylishly finishes the fresh tropical theme. Also, cats. A cool chandelier like the Feiss Caprice helps you get a similar look.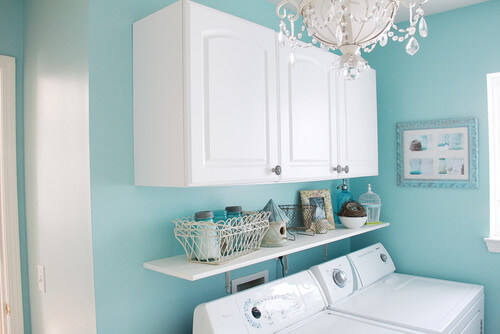 That elegant crystal chandelier is absolutely perfect for this Tiffany blue and white laundry room! The Crystorama Envogue offers a similar adorned look.
A pendant can also be a great choice, especially if you have a sink area in your laundry room.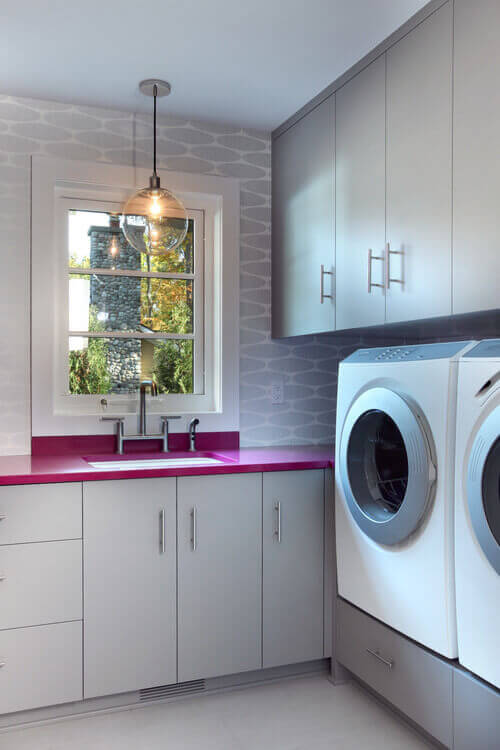 Love the bubbly look of this pendant and the daring colorful countertop! Add some bling to your laundry room with the George Kovacs Bling Bang.
Or try a row of pendants!
Schoolhouse or industrial style pendants are common since they fit the idea of the laundry room as a place to get things done and a place in need of good, no-nonsense light to do so. Try the Minka Lavery Industrial pendant for a similar look.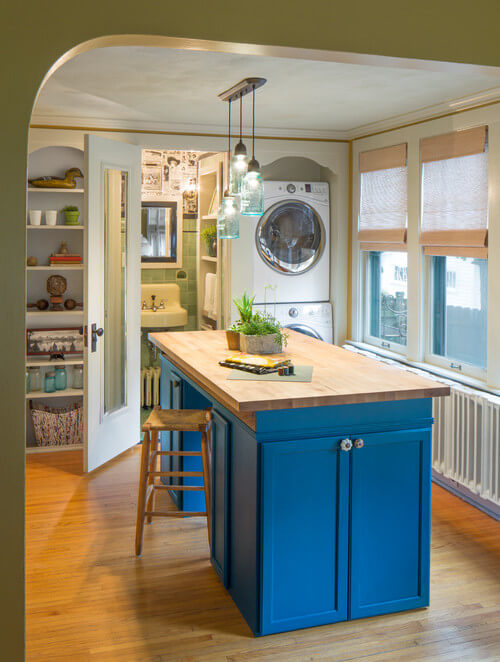 This row of fun glass jar pendants, hung at different levels, is the perfect addition to this eclectic farmhouse room that actually serves four purposes. (Count 'em up: laundry, mudroom, pantry and powder room!) Because the pendants are all on one canopy, try shopping in our kitchen island lights section for a similar look.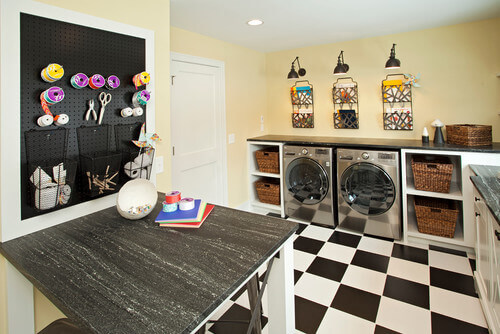 A trio of wall lamps are mounted on the wall in this combo laundry-crafting room. By the look of them, they appear to be adjustable, so if someone needs to bring the light a little closer as they fight a pesky stain on that counter or attempt to replace a missing button with black thread on a black shirt, they can do just that. Get that helpful light with the Savoy House Dakota.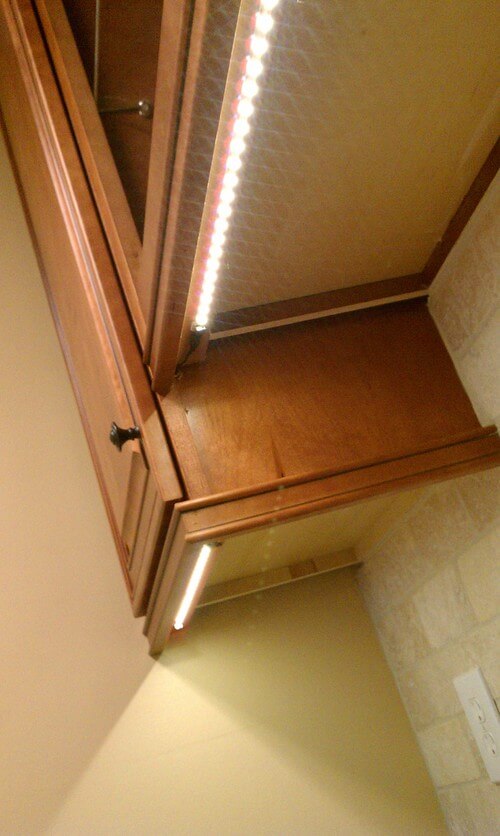 Another way to get helpful task lighting is to add under-cabinet lighting, like this row of LED light, to your laundry room. It's important to mount under-cabinet lighting in the proper spot. Though this guide of 5 under-cabinet lighting tips is written with kitchens in mind, you can apply the tip about mounting spots to the laundry as well. You can also put the under-cabinet lighting above the cabinet to get cove lighting pointed to the ceiling.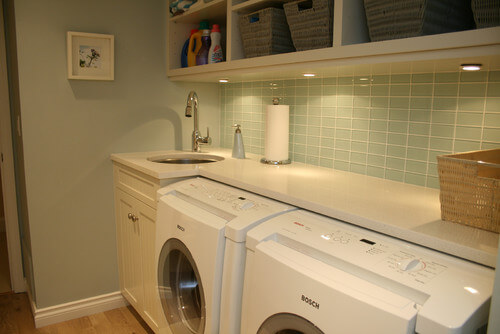 Puck-shaped under-cabinet lights like the
Kichler Design Pro
work too! They also spotlight the pretty glass tile backsplash here.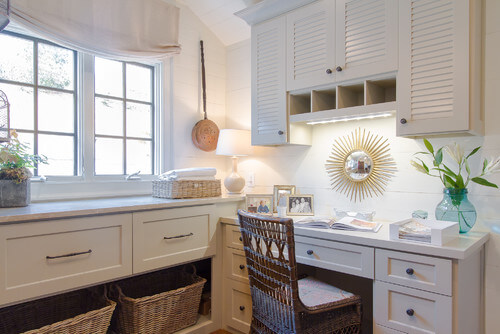 You can even add a table lamp. This airy laundry room and office area is beautified even more by the gourd lamp here. For a similar look, try the Dimond Abbey Lane.
Here are some more pointers for laundry room lighting:
Note that a lot of these laundry rooms also include can lights that are used in tandem with other fixtures. That's great! It's always important to layer your lighting.
Common style themes for laundry room lighting fixtures include industrial, farmhouse, nautical and schoolhouse, but that doesn't mean those are the only options. Contemporary, traditional, Art Deco, crystal and so on--those might be the perfect fit for your room's style and your personal preference.
Aim for warm white light in the laundry room, but make sure you have enough light to complete tasks.
If you do a lot of ironing, a directional light (like a wall lamp) angled ahead of the ironing board can help you see wrinkles better.
If you need more advice or want us to recommend a laundry room lighting solution, contact us or call us at 1-866-688-3562! You can also sign up for our email newsletters, which are sure to brighten up your inbox.
Images from Houzz. Photo credits in alt tags.