People can be afraid to do this, and ask lots of questions about whether or not it's permissible, but they shouldn't be afraid and should feel comfortable doing it. What are we talking about? The phenomenon of mixing metals in lighting and home décor!
It's a common query stated in a few different ways: "Can I mix chrome faucets with brass light fixtures?" "Will oil-rubbed bronze clash with nickel?" "Do I need to have polished nickel everything?" "If I mix metals, is it breaking a rule?"
Yes, you can mix your metals. In fact, it looks really great if you do. Mixing metal finishes creates a more balanced and refined look. Plus, it showcases your unique 'eye' and style, making the room totally yours and yours alone. Mixing metals creates layers that all combine to make something excellent. It also shows intent—you care about how your space looks and want it to look great.
Here are a few ideas for mixing metals:
Similarly-hued metals work well together. For example, nickels and chromes pair well.
But so do very different metals, like polished nickel paired with bronze. In this instance, it's good to combine a light metal with a dark one.
Think of some metals, like gold or brass, as warm and others like chrome or silver as cool. Then try a mix of a warm and cool!
Mix no fewer than two metals and no more than four different ones for the best results.
Try picking a dominant metal and then contrasting it. For example, if most of the items in one room are finished in chrome, add in a brass light fixture.
Consider a two-thirds, one-thirds rule where the dominant metal is used in two-thirds of the space while a contrasting metal is used in the other third.
While your cabinet pulls should be done in the same metal as the hinges (if you have exposed hinges), it's OK to then pair that matching set of hardware with different finishes in other parts of the room.
Still not convinced? If you're more of a visual person and need to see examples of mixing metals in action, here are some great rooms from Houzz. Take a look at the combinations used in them. You can also learn how to get the lighting looks in these rooms!
This kitchen uses bronze Kichler Hatteras Bay pendants with a faucet and cabinet hardware in the silver family.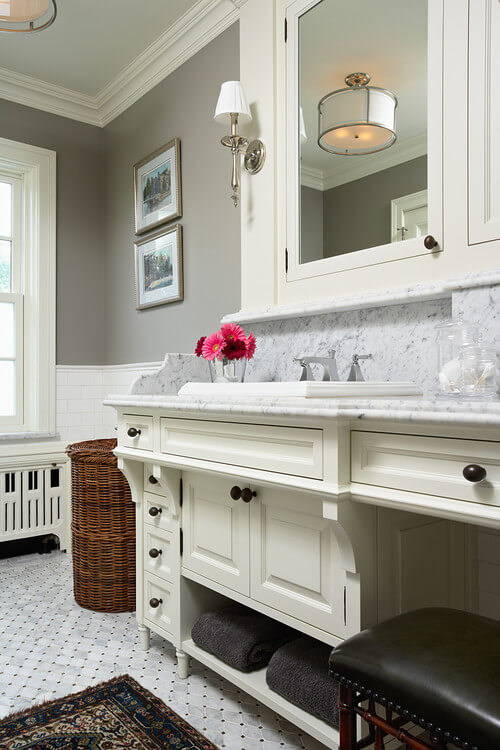 The polished nickel Hudson Valley Quincy sconce seen here is offset perfectly with bronze drawer handles.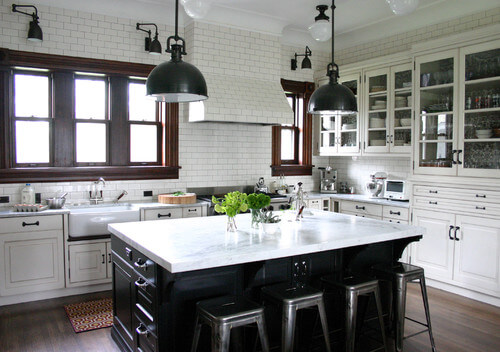 In this example, the pendants, ceiling mount lights and wall lamps are finished in a dark tone, but the faucet is silvery, as is the drawer hardware on the island.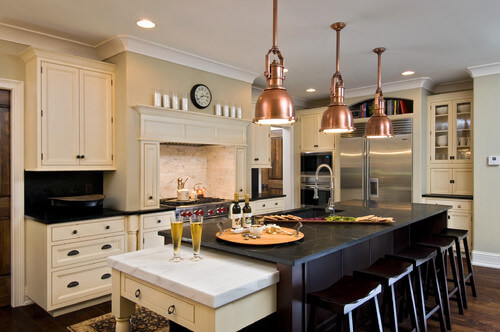 Love the rich copper finish on the pendants above this island. It combines well with the silvery faucet and bronze drawer pulls.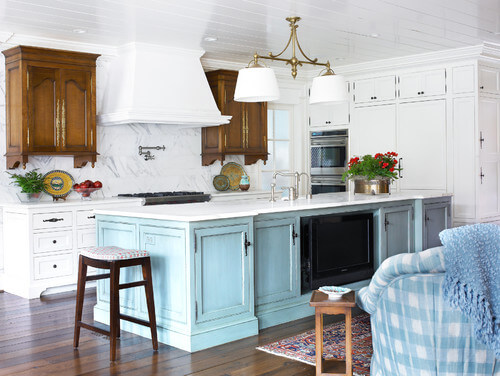 How beautiful is this kitchen from a home right here in Atlanta? It combines a brass island light with cool hardware and warm faucet.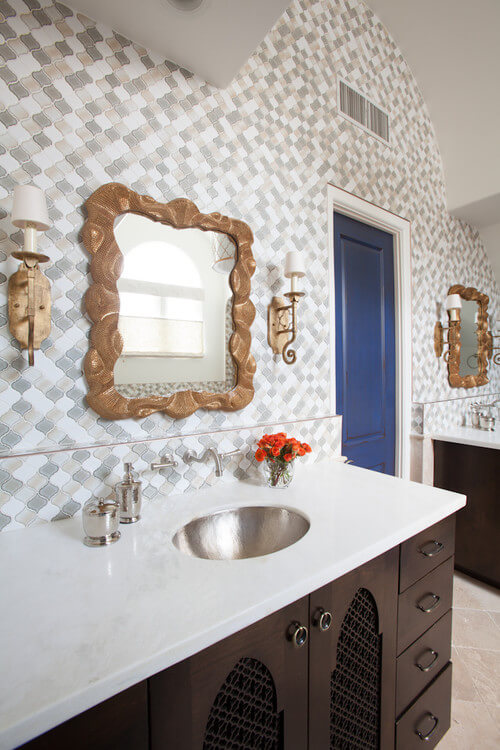 Look at how gorgeous gold and silver look together! Get this look with a sconce like the Savoy House Varna.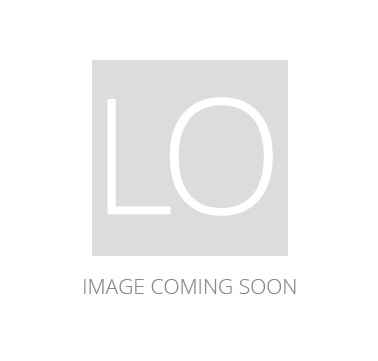 Here's a sumptuous mix of hues and metals. A bold brass chandelier is made even more daring with the black shades.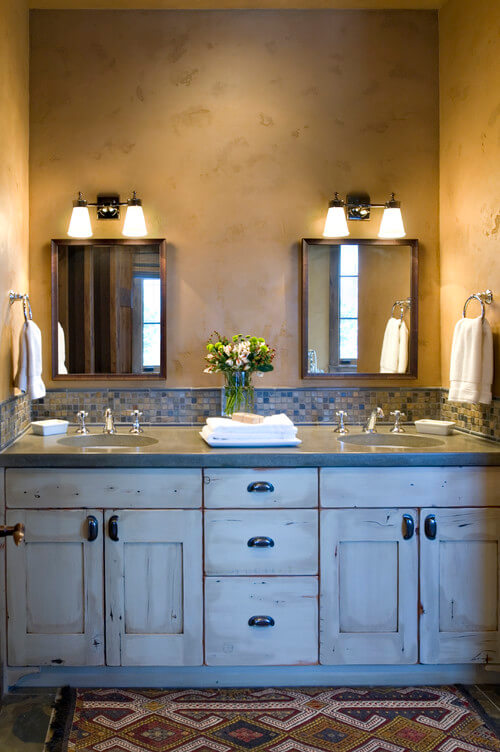 Everything in this rustic-style bathroom combines brilliantly. Bath bars like the Quoizel Nicholas look great with any space.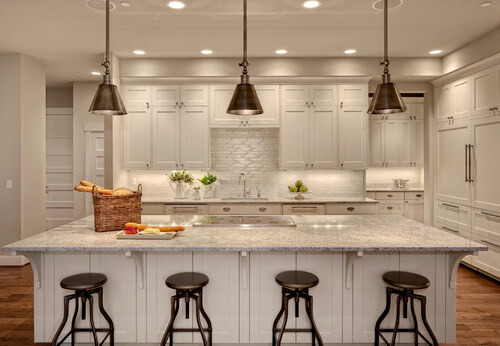 Here's another mix of warm and cool. The pendants above the island are the Hudson Valley Darien in a historical nickel finish! Don't they go so well with the stools?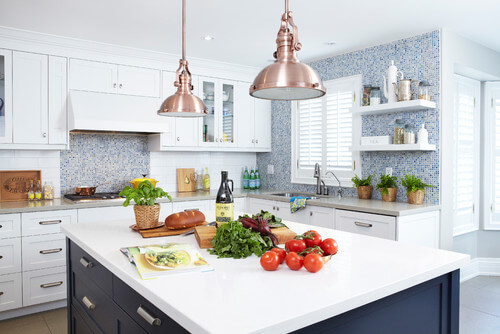 More delightful copper pendants! Get this look with Landmark Chadwick.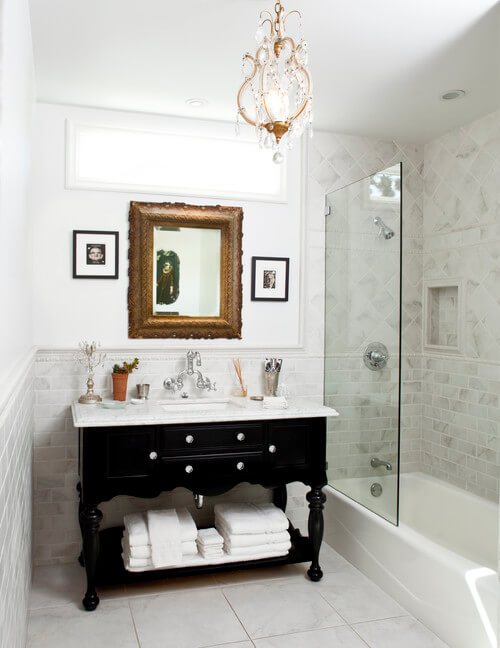 Here's a great example of a mini chandelier in action, too.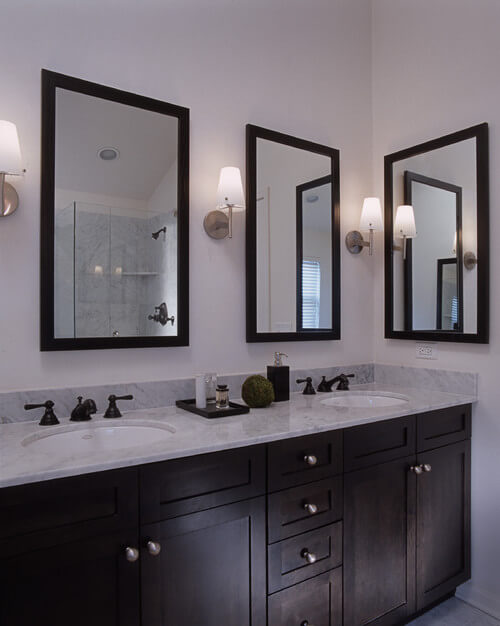 Oil-rubbed bronze faucets are a stylish deviation from the metals that are usually used there. Shaded sconces like the Feiss Lismore offer flattering light.
From the brassy semi-flush mount to the silvery garden stools, this room combines so many rich metallic hues and looks like a million bucks.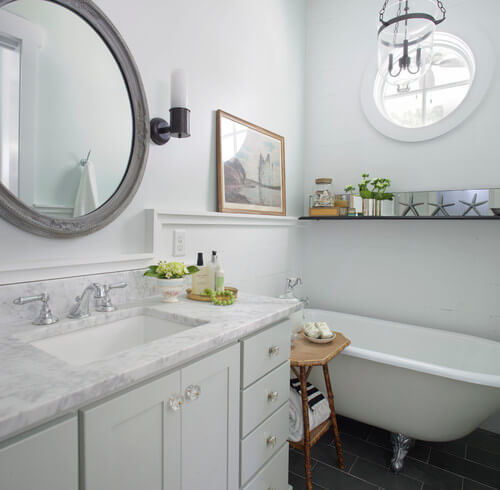 Bronze light fixtures, a chrome faucet and crystal drawer pulls make this beachy bath a great escape from the day. Interesting to see a bell pendant used here!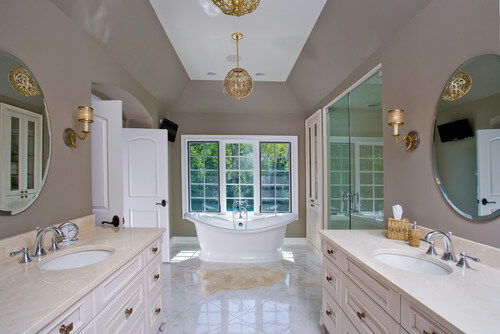 So much beautiful mixing of warm and cool metals. The overhead lights look like the Feiss Arabesque.
To recap: yes, mixing metals is OK! It creates a balanced, refined and intentional look that makes the room uniquely yours. So, go out there and mix metals freely!
Do you need lighting advice or help? Contact us, get in touch on social media, livechat with us on our website or call us at 1-866-688-3562. You can also sign up for our email newsletters, which are sure to brighten up your inbox.
Photos from Houzz. Photo credits in alt tags.