Ever had a ceiling nearly fall in on top of you? Well, that happened to Jonathan Scott on Property Brothers as he was taking a look at a ceiling in the newly-purchased house of Nicole and Colby, a very down-to-earth couple with an abiding love for their dog Bogey. Jonathan expressed worry about the ceiling coming down and then--the exact thing happened! But he got out of the way and nobody was hurt.
Once that old ceiling was dealt with and the rest of the renovations were done, though, the house looked so great that Nicole was nearly moved to tears! Better yet, the job was done with some great lighting, so let's take a closer look at that.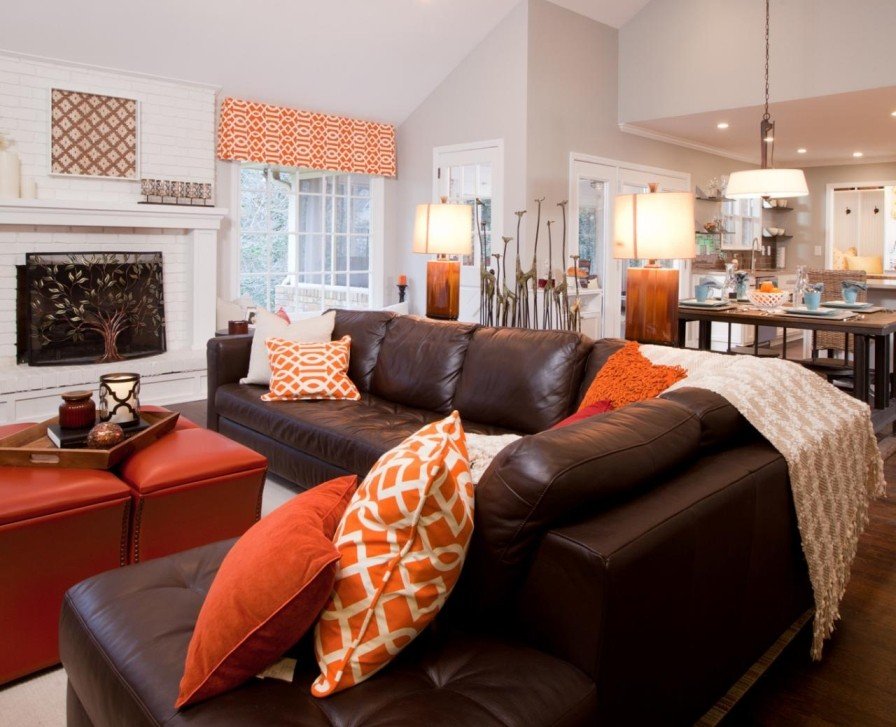 Check out the use of color and pattern in this living room with very tall ceilings! Orange works really well in here, helping to warm up the large leather sectional and adding visual intrigue to the windows. Notice how grouping the furniture like this has effectively created two separate rooms in one large open area. The Savoy House Maremma pendant hangs over the dining table. Maremma has been discontinued, though we offer thousands of pendants that can help you get a similar look.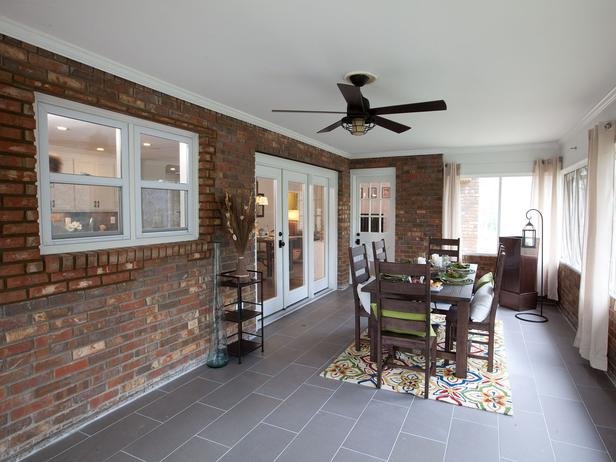 This porch area looked pretty bad before, but has now become a stylish and very usable area for dining, hosting parties or just enjoying the scenery. Better yet, when it gets hot (and since this is Atlanta, it will get hot), there's a durable ceiling fan right there: the Savoy House Hyannis. Built for use in damp areas (which means outdoor areas not directly exposed to the elements--porches or patios, for example), it features a central light source protected by a column of India scavo glass and a cage, so it can be used for climate control and ambient light too!
A foyer, entryway or mudroom is a great place to put a ceiling flush mount light, especially if the ceilings are not very high. You get the light you need and no one hits their head. What's not to love? This Savoy House flush mount features a nice little touch of metalwork to keep it from being too plain. It fits well with the drawer pulls and baskets. Shop our flush mount lightsto find the fixture that is perfect for you.
Photos of the rooms are from HGTV and Property Brothers' Pinterest. A comprehensive sourcing guide is available if you want info on non-lighting elements seen here.
Do you need lighting advice or help? Contact us on social media, livechat with us on our website or call us at 1-866-688-3562. You can also sign up for our email newsletters, which are sure to brighten up your inbox.